The Jarvis Family and Other Relatives
If you have reached us from Ancestry.com or another cached site,
please go to http://www.fmoran.com/banner.html to see the latest version of this page.
We welcome comments and inquiries. Please write us.
Banner Family of North Carolina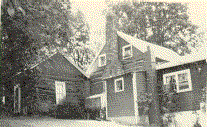 Henry Banner House, moved in 1806, Germanton
Courtesy of City-County Planning Board of Winston Salem, NC
In 1751 Henry Banner and his wife, Eleanor, and their son Joseph are mentioned - "Joseph Banner of Stokes County was born in 1749 in Pennsylvania and moved to North Carolina in 1751. Henry Banner settled in what was then called Anson County, now Stokes, on Town Fork, near the present village of Germantown." Henry applied for two grants from Lord Granville on March 3, 1752, one for 640 acres (on Buffalo Creek) and another for 640 acres (Dorothea Creek, now called Muddy Creek). These two grants are in the name of Henry Bonner.
---
First Generation

Children of Henry Banner (1727-1789) and Eleanor Martin (c1730-c1789)
Joseph Banner Sr. (1749-1838) m. Sarah McAnally (1755-1843)
d/o Capt. Charles McAnally & Ruhamah Houston
Ephraim Banner Sr.(twin) (1753-1838) m. 1) Sarah Martin (1755-1792), d/o Abraham Martin;
2) Elizabeth Hartgrove (1775-1847); d/o James Hartgrove and Susanna H. Lankford
Benjamin Banner Sr. (twin) (1753-bef. 1840) m. Sarah Clayton (1754-before 1840)
d/o Stephen Clayton and Mary Dennum
John Banner (1757-1799, VA) m.Catherine Elizabeth "Caty" Rackenpaugh
Charity Banner (1764-1817) m. John Clayton/Cleaton (1759-bef. 1801) (brother of Sarah Clayton)
---
Second Generation

Children of Joseph Banner and Sarah McAnally
Charles Banner Esq (1773-1857) m. Rebecca (Ap) Evans
Charity Banner (1775-1834) m. Rev. Jesse Briggs
Ruhamer (Mercy) Banner (1778-1819) m. Wyatt Peoples
Elisha Banner (1782-1810)
Mary (Polly) Banner (1785-?) m. Joseph V. Grigg, s/o Moses Grigg (moved to Ohio)
Sarah (Sally) Banner (1788-1863) m. Charles McAnally (1786-1844),
s/o Jesse McAnally and Elizabeth Morgan
Joseph Banner Jr.(1792-?) m. Anna Armstrong (1796-?),
d/o Thomas T. Armstrong & McMurry

_________

Children of Ephraim Banner Sr. and 1) Sarah (Sally) Martin
William Banner (1771) nothing else known
Elizabeth Banner (1773-1818)
Joshua Banner (1775-1846) m. Martha (Patty) Bitting (1782-1854)
Benjamin Banner Jr. (1777-1811)
Henry Banner (1779-1816)
Ephraim Banner Jr.(1780-1816)
Daughter Banner (1783)
Son Banner (1785-?)
Sarah (Sally) Banner (1790-?) m. Abner S. Pryor (ca. 1792-?)
Son Banner

_______

Children of Ephraim Banner Sr. and 2) Elizabeth (Betsy) Hartgrove
Jesse Banner (1795-1867) m. Anna M. Null (1801-1892)
Charles Banner (1797-bef. 1846) m. Elizabeth Patterson
Joseph R. Banner (1799-?) m. Catherine Kiger/Geiger
Ellender D. Banner (1803-bef. 1860) m. William W. Terry (c1802-1879)
s/o John Terry and Amney Vaughn
Elizabeth Banner (1805-?) m. John T. Fowler, s/o Samuel Fowler
Charity Banner (1807-bef. 1865) William W. Terry (her sister's husband)
Susannah (Susan) Banner (1810) m. William Ashbury Bolejack, s/o Wm. C. Bolejack and Sally K. Miriah
Daughter Banner (1814-?)
Son Banner (1826-?)
Son Banner (1828-?)

________

Children of Benjamin Banner and Sarah Clayton
Henry Banner (1773-1840) m. Juda (Judy) Cope (1774 in KY - 1855/6 in TN)
Son Banner (1775-?)
Son Banner (1777-?)
Son Banner (1779-?)
Mary (Polly) Banner (1781-1847) m. Josiah Martin (c.1795-1830)
Son Banner (1783-?)
Sarah (Sally) Banner (1785-1845) did not marry
Phillip Banner (1787-1840)
Joseph Banner (1789-1840)
Benjamin Banner Sr. (1790-after 1846) m. Margaret (Peggy) Kiger
Son Banner (1792-?)
Ephriam Banner (1794, NC - after 1850, TN)
---
Third Generation

Children of Charles Banner Esq and Rebecca Evans
Constantine Ladd Banner (1799-1867) m. Mary Bowman (1800-1890),
d/o Dr. Andrew Bowman and Ann Blum
John Banner Sr. (1801-1888) m. Virginia (Jenny) Moore, d/o Wm. Moore and Mary Martin
Cynthia Banner (1804-?) m. Augustine Randleman
Sarah (Sally) Reynolds Banner (1806-1875) m. Hosley G. Anderson (1802-1894)
Margaret (Peggy) J. Banner (1808-?) m. Rev. Solomon H. Helsabeck (1822-1920)
Elisha Banner (1811-1868) m. 1) Mary Elizabeth Moore 2) Mrs. Susanna R. (Hampton) Bitting in 1853
Rebecca Banner (1814-1818)
Ruhamer (Amy) Banner (1817-1880) m. David Wesley Doub (1816-1864)

__________

Children of Joseph Banner Jr. and Anna Armstrong
Son Banner (1818-?)
Son Banner (c1820-?)
Mary Banner (1826-?)
T. T. Banner (1828-?)
Elisha Banner (1830-?)
Martin Banner (1832-?)
S. J. Banner (1834-?)
Minerva Banner (1836-?)

__________

Children of Joshua Banner and Martha (Patty) Bitting
Nancy (Ann) L. Banner (1801-?) m. John D. Salmons
Lewis Bitting Banner (1805-1883) m. Nancy Meadow Flippin (1816-1902)
d/o Samuel Flippin and Nancy Meadow)
Martin Luther Banner (1808-1895) m. Mary Weaver Ogburn (1811-1877)
Anthony E. Banner (1810-1894) m. Elizabeth Martin
Joshua David Banner Sr. (1813-1865) m. Amy Weaver Ogburn (1816-1894)
Missouri Banner (1816-?)
Martha Banner (1817-?) m. Madison John Breedlove
John William Banner Sr. (1818-1884) m. Mary Elizabeth Shipwash (1823-after 1860) (lived in Wilkes County, NC)
Edwin H. Banner (1821-?) m. Sarah P. Moore, d/o Wm. Moore and Mary Martin
Mary B. Banner (1823-?) m. Matthew John Crews
Matthew Rauley Banner, M.D. (1827-1911) Adelaide B. Barrett (lived in TX)

__________

Children of Henry Banner and Juda (Judy) Cope
Lewis Banner (1813-1893) m. Vianna Whitson (1818-1883) (Washington Co.,TN)
Catherine Banner (1816-?) m. Henry Mitchell (1808-?) (lived in Washington Co., TN)
Elizabeth Banner (1817-1892) did not marry
Annie Banner (1818-1899) n. John Haynes (1814-1869) (moved to Missouri)
Mahala Banner m. Jeremiah L. (Jerry) Gray, Sr.(ca 1818,NC -?)

For more information on this line of Banners, please contact Judy Cardwell, email address: JudySCard@aol.com

_________

Children of Jesse Banner and Anna M. Null
Emeline A. Banner (1828-1829)
Permanius L. Banner (1830-?)
John William Banner (1834-bef. 1870) m. Jane Adelaide Flynt

Previously we had listed Polina Shore Banner (twin) (1834-?) as a member of this family. This appears to be based on the 1850 census, where Polina Shore age 16 is the last-listed member of this household. However, there is no ditto mark by her name, and we are now thinking that she may be Polina SHORE, not a BANNER at all.

__________

Children of Joseph R. Banner and Catherine Kiger/Geiger
Martha J. Banner (1826-1912) m. Gideon Nathaniel Westmoreland,
s/o Taylor Westmoreland and Martha Ledbetter
Charles M. Banner (1828-1892) m. Heddy Ann Tuttle
Melissa Ann Banner (1831-?) m. Noah Jefferson Tuttle (1829-?)
Gideon A. Banner (1833-?) m. Mary Ann (Anny) Tuttle (1831-1907)
Anna H. Banner (1836-?)

__________

Children of Benjamin Banner Sr. and Margaret (Peggy) Kiger
Christina Adaline Banner (1828-1890) m. Reuben Moore Clayton (1824-1865)
Wilson/Wesley Clayton Banner (1826-1893) m. Martha (Ann) Morris
d/o Frederick Morris & Polly Horn
Marcrum VanBuren Banner (1831-1865) m. Virginia Banner (1831-1895),
s/o Martin Luther Banner and Mary Weaver Ogburn
Mary (Catherine) Banner (1839-1906) m. Joseph Martin Merritt (1828-1896),
s/o Alexander Merritt & Elizabeth Davis
---
Fourth Generation:

Children of Martin Luther Banner and Mary Weaver Ogburn
Newton Banner (1842-1941) m. Sophronia E. Mast (1850-1931), d/o Joseph Mast and Clarisee Moore
Columbus (Lum) Banner
Oliver Banner

-------------

Children of Joshua Banner and Amy Weaver Ogburn
Edward James Banner (1838-1922) m. Emily Jane Parrish (1843-1912)
d/o George W. Parrish & Mary Jane Brown
Susan J. Banner (1840-1860) m. Robert M. Jenkins
s/o Coleman Jenkins and Emily Orrell Bodenhamer)
Martha Ann Banner (1843-1927, MO) m. William Marion Cofer
Joshua Davis Banner (1847-1912) m. Mary Ellen Beeler
Amy Ellen Banner (1849-1904, CO) m. William V. Rector
Mary Jane Banner (1852-1944) m. John Stiger
Matthew "Matt" Banner (1855-?)
Keehlin "Keel" Banner (1859-?)

----------

Children of John William Banner and Jane Adelaide Flynt
Mary Adelaide Celestea Banner (1858-?) m. ? Wooley
Nevada Banner (1859-1944) m. Artemius Eusebius Pfaff (1847-1903)
Ellen E. Banner (ca. 1861-?) m. ? Salmons
John W. Banner (ca. 1863-?)
---
Fifth Generation

Children of Newton Banner and Sophronia E. Mast
Addic C. Banner
Susan A. Banner (1871-1949) m. Wiley F. Sherwood (?-1944)
Daniel B. Banner (1879)
Jacob N. Banner (1884-1887)
Arthur M. Banner (1887-1972) m. Alice Combs (1891-1961)
Thomas J. Banner (1893) m.Josie A. Baird (1894-?)

(This family lived in Watauga County, North Carolina)

------------

Children of Edward James Banner and Emily Jane Parrish
Susan Jane Banner (1861-1861)
Bettie Ellen Banner (1869-1945) m. Mathew Reuben Lee Ziglar
Samuel Edward Banner (1870-1959) m. Milly Ada Brinkley (1870-1910)
m. 2) Nancy Elizabeth Carolina Collins (d/o Andrew Jackson Collins & Carolina Elizabeth Bates)
Amy Bell Banner (1872-1944) m. Joseph Benjamin Merritt (s/o Joseph Martin Merritt)
Mary Moir Banner (1875-1952) m. Napoleon Jackson "Jack" Reich
Emmer Sullivan Banner (1878-1943) m. Joseph Allen Yarbrough (1875-1946)
Frank Shannoie Banner (1882-1886)
---
Sources:

Research compiled by Judy Cardwell. Judy's email address is: JudySCard@aol.com

The History of Watauga County, North Carolina, John Preston Arthur, published 1915

Some revisions were made to this page on April 1, 2001 and on December 28, 2001. Several links were repaired and a few dates added on November 24, 2003.

©, 2001-2007 Faye Jarvis Moran
faye@fmoran.com
---
Return to List of Family Names
Return to the Jarvis Family Homepage