The Jarvis Family and Other Relatives
If you have reached us from Ancestry.com or another cached site,
please go to http://www.fmoran.com/carmich.html to see the latest version of this page.
We welcome comments and inquiries. Please write us.
Carmichael Family
---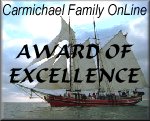 First Generation
Children of Duncan Carmichael (born in Lismore, Argyle, Scotland) and unknown Ensley
Archibald Carmichael (1754, Scotland-1829, NC) m. 1) Sally Westmoreland,
2) Elizabeth Nix (c1752-1814)
Duncan Carmichael (1755-1834) m. Charity Witt (c1774-bef 1820), d/o Charity Witt and Leminah Harbour
---
Second Generation

Children of Archibald Carmichael and Elizabeth Nix
Stirling Carmichael (1775-1849) m. Martha Long, d/o Israel Long (married in 1801)
Elizabeth Carmichael (1778-1835) m. Adam Fulk/Volck (1795-?)
Jane Carmichael (1783-c1868) m. John Miller
Richard Carmichael (1785-1870) m. Mary Graves (1787-1863,IN)
Sarah Carmichael (1787-?) m. 1) William Martindale, 2) Peter Graves (one child, Thomas P. Graves)
Alexander Carmichael (1791-1865, IN) m. 1) Jane Hutchins, 2) Anna Maria Holder (1794-1834),
Joseph Carmichael (1796-1839) m. Anna Elizabeth Holder (1797-1867)
Archibald Carmichael (1801-1876) m. Martha Pennington

Who is Duncan Camel (Carmichael?), age 68 in 1860, Wilkes County, NC Census? His (wife?) is named Mary, age 44. Other persons listed with family are: Mary 22; Sarah, 20; Jane, 18; Hugh; 18; Neil, 13; Daniel, 11; Alexander, 8 and; Laura, 2.

__________

Children of Duncan Carmichael and Charity Witt
John Carmichael (1774-1861) m. Elizabeth Childress
Sarah Carmichael (1778-?) m. John Smithey
Leminah Carmichael (c1779-?) m. Thomas Climer
William Carmichael (1780-1846) m. Sallie Smith
Lemuel Carmichael (c1784-?) m. Suzy Carmichael
Mary Carmichael (c1785-?) m. Vench Ingram
Barzillai/Byerly Graves Carmichael (c1792-c1872) m. 1) Mary (Polly) Westmoreland (1789-1859); 2) Minerva (Mary) Boles (1839-1910)
Solomon Carmichael (1794-1883) m. Sarah Grubbs (1797-1841), d/o Thomas and Martha (Patsy) Grubbs
Richard Carmichael (1796-1850) m. Sarah Westmoreland

Duncan Carmichael enlisted in the Revolutionary War while residing in Caswell County, NC. He served in the Company of Capt. Tillman Dixon as a blacksmith. In 1821 Duncan was living with his daughter, Mary Wilson and stated his "other children have long since left me." Statements taken from Lawrence and John Angel, indicate Duncan's brother, Joseph Carmichael, also served in the Rev. War.
---
Third Generation

Children of Stirling Carmichael and Martha Long
Thomas Carmichael (1819-1853/54) m. *Mary McBride (?-1894)
*Mary m. 2nd Warham Warren Hodges in Monroe County, IN

-------------

Children of Joseph Carmichael and Anna Elizabeth Holder
Susannah Carmichael (1821-?) m. John W. Carmichael (1820), s/o Solomon Carmichael and Sarah Grubbs

Children of Richard Carmichael and Mary Graves
James Carmichael m. Elizabeth Teague (1814-1892), d/o Michael Teague and Catherine Holder
Peter Carmichael m. Lydia Margaret Teague (1821-?), sister of Elizabeth

--------

Children of Solomon Carmichael and Sarah Grubbs
Thomas Grubbs Carmichael (1813)
Willy Witt Carmichael (1815-1880) m. Thomas Holder (1808-1895)
Martha E. Carmichael (1818-1900) m. 1) Johann Martin Holder (1811-1840)
2) David Wesley Hilsabeck (1819-1905), s/o John Helsabeck and Anna Catherine Fulk
John W. Carmichael (1820) m. Susanna Carmichael (1821) (had sixteen children, eight of them twins)

---------

Children of Barzillai/Byerly Graves Carmichael and 1) Mary (Polly) Westmoreland
Elizabeth Carmichael (1814-1894) m. John Henry Moser (c1814-?)
Edward H. (Ned) Carmichael (1815-after 1870) m. Elizabeth Grubbs (c1819-aft. 1870)
Martha (Patty) Carmichael (1822-1893) m. Israel Moser (1816-1897)
Mary Whitt Carmichael (1824-1892) m. William Fulk (1822-1892), s/o Frederick Fulk and Maria Catharina

----------

Children of Barzillai/Byerly Graves Carmichael and 2) Minerva (Mary) Boles
Samuel Carmichael (Boles?) (abt. 1859-aft. 1870)
Ellen Samantha Carmichael (1860-)
Lilla M. Carmichael (1865-aft. 1880) m. Daniel G. Magee
Azariah Gray Carmichael (1867-1922) m. 1) Flora Spease (1873-1893); 2) Ida Cope (1875-1946), d/o Enoch Cope and Ann Garwood
John P. Carmichael (1870-aft. 1880)
---
Fifth Generation

Children of James Carmichael and Elizabeth Teague
Mary Ann Carmichael m. George Wesley Kirk (1827-1902), s/o James Kirk and Maria Margaretha Holder
Nancy A. Carmichael m. Michael Kirk (1837-?), s/o John Kirk and Susannah Holder

------------

Children of Edward H. (Ned) Carmichael and Elizabeth Grubbs
John W. Carmichael (abt.1840-1865) m. Eliza Ann Grubbs (1837-1908), d/o Lewis Grubbs and Elizabeth Ring
Alexander Boswell Carmichael (abt. 1842-aft. 1850)
Thomas E. Carmichael (abt. 1843-aft. 1850) m. Martha A. Moser (1841) (m. 1866)
Isaac Newton/Nimrod Carmichael (abt. 1848-1928) m. 1) Elizabeth Spainhour (?-bef. 1867); 2) Martha J. Clemmons (abt. 1846-aft. 1880)
---
Sixth Generation:

Children of Azariah Gray Carmichael and Ida Cope
(Nannie) G. (Gladys?) Carmichael (1896-aft. 1920) m. Sanford T. Brown
Addie F. Carmichael (1904-aft. 1930) m. Eugene L. Chadwick (abt. 1894-1941), s/o John Chadwick and Luella Oehman
John W. Carmichael (1909-1998) m. Mattie Lee (abt. 1913-1980), s/o William Lee and Carrie Martin
Sallie Beatrice Carmichael (1910-aft.1930) m. Jesse G. Alley
George A. Carmichael (1912--aft.1930)
Hala S. Carmichael (1914-aft. 1930)
Ernest Raymond Carmichael (1901-1993) m. Miriam L. Tate [error corrected May 12, 2008 - previously we showed Ernest with two marriages]
Sanford D. Carmichael (1918-1938)

-------------

Children of John W. Carmichael and Eliza A. Grubbs
Ella E. Carmichael (1859-1934) m. Harrison Vermillion
John Lewis Carmichael (1861-1939) m. Louisa Jane (Ludie) West

Seventh Generation;

Children of Isaac Newton/Nimrod Carmichael and Martha J. Clemmons
John W. Carmichael (abt. 1870) m. Eliza A. Grubbs
Virgil Carmichael (abt. 1872) m. Rosa J. Jones
Thomas M. Carmichael (abt. 1874) m. Louisa Pulliam
Lilla F. Carmichael (abt. 1876)
Charles P. Carmichael (abt. 1878) m. Laura Whealton
Laura Carmichael (abt. 1880) m. Charles Martin
---
Visit Carmichael Family Online

This page updated January 12, 2004. Minor revisions made January 6, 2006 and October 8, 2007

Sources:

Combs, Holder, Carmichael, Sparks, Some of by Surry County Heritage, by Mildred E. Mereidth of Greene County, IN. The Journal of Surry County Genealogical Association, Volume 18, Book 2, Summer, 1998.

Another Carmichael Genealogy site.

Rev. War Pension Records S 41467, extracted by Elizabeth Osenbaugh

1870, 1880, 1900, 1910, 1920, 1930 US Federal Census Records
Marriage, birth, and death records, Forsyth Co., NC

©, 2001-2007
Faye Jarvis Moran and Elizabeth H. Harris
faye@fmoran.com, ncgen@mindspring.com

Return to list of Family Pages

Return to Jarvis Family Page