The Jarvis Family and Other Relatives
If you have reached us from Ancestry.com or another cached site,
please go to http://www.fmoran.com/warren.html to see the latest version of this page.
We welcome comments and inquiries. Please write us.
Warren Jarvis Family
---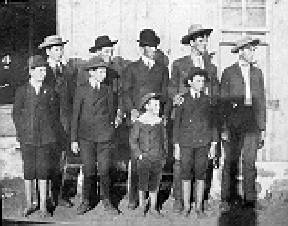 Warren Franklin Jarvis and Sons
Fifth Generation
Warren Franklin Jarvis (1859-1924) married Florina Elizabeth Ketner (1860-1914) in Forsyth Co., NC, Feb. 6, 1879. Florina was the daughter of Lenard Edward Ketner and Mary A. E. Stockburger. After their marriage, Warren and Florina lived in North Carolina for five or six years before Warren decided to move to Click, (Llano County) Texas in 1883/1884. Warren sent for his family to join him in Texas about 1889/90. After the death of Florina, Warren lived with one of his sons in Odem where he died in 1924. They are buried in the Dobyville Cemetery in Burnet, Texas.
Click, Texas is on Farm to Market Road southeast of Llano, Texas, almost due southeast of Oxford, Texas, which is on highway 16 south of Llano, Texas and it is surrounded by the cities (towns) of Llano, Burnet, Fredericksburg and Johnson City (Lyndon Johnson's home), Texas.  This is in the heart of the beautiful Hill Country of Texas northwest of Austin, Texas, where the bluebonnets and other wild flowers bloom in April each year.
---
The children of Warren Franklin Jarvis and Florina Elizabeth Ketner

John William Jarvis (1879-1920) did not marry (died in Bexar, TX)
Annie Maria Jarvis (1880-1951) m. Sidney F. Barnes (died in Travis, TX)
Mary Jane Jarvis (1881-1969) m. 1) Francis Smith Reams (1876-1947); 2) Kincaid
Tennyson Monroe Jarvis (1882-1962) m. Lydia Cyvilia Young (1892-1970),
d/o John Thomas Young and Jerusha Jane Lane
Lewis Columbus Jarvis (1883-1955) m. Cora Allison Holt (1890-1971)
James Franklin Jarvis (1888-1958) m. Myrtle Watkins (1895-1958),
d/o Isom T. Watkins and Frankie Mae Evans
Sarah Naoma Jarvis (1890-1891)
Floyd Eugene Jarvis (1891-1967) m. Phrona Thomas Young (1897-?),
d/o John Thomas Young and Jerusha Jane Lane
Walter Thomas Jarvis (1892-1969) m 1) Clendina Clara Buch, (1897-?)
d/o Herman Otto Buch and Clara Emma Leberman; 2) Ethel Elizabeth Dempsey Brown
Edgar Alexander Jarvis (1893-1894)
Marcus Lee Jarvis (1894-1968) m. Thelma Howenstine (1889-1985)
Simon Otto Jarvis (1896-1975) m. Josephine Cornelia Walderon (1896-1974)
Lula Elizabeth Jarvis (1897-1982) m. Hubbard Nettleship (1901-1957)
Damon Albert Jarvis (1899-1968) m. Ethel Maude Bagley (1903-1969)

Close-up photos of Warren and his boys
---
Sixth Generation

Mary Jane Jarvis and Francis Smith Reams had one son and two daughters. One daughter was Selma Reams Harney.

------------

Children of Tennyson Monroe Jarvis and Lydia Cyvilia Young
Evelyn Grace Jarvis (1914-2006) m. Ervin Gideon Gabbert
T. M. Jarvis, Jr. (1921-1995) m. Vonne Earline Wilborn

-------------

Children of Lewis Columbus Jarvis and Cora Allison Holt
Benjamin Franklin Jarvis (1909-1972) m. Etheline Louise Michel
Willie Elizabeth Jarvis (1913-?) m. Benjamin Marion Clark
Annie Mozelle Jarvis (1915-?) m. William Clyde Heffington

--------------

Children of James Franklin Jarvis and Mrytle Watkins
Cleo Evelyn Jarvis (1912-?) m. William Edward Stein
Regina Mae Jarvis (1920-?) m. Clyde Landis Reed

-------------

Children of Floyd Eugene Jarvis and Phrona Thomas Young
Leslie Floyd Jarvis (1916-1943) (died in plane crash in Florida)

--------------

Children of Walter Thomas Jarvis and 1) Clendina Clara Buch
Hamelton Warren Jarvis (1913) m. Eleanor Maurine Harlan (1913-?), d/o Everett T. Harlan and Carrie May Lincoln
Clarence Damon Jarvis (1914-1999) m. 1) Faucine Oliver; 2) Clara Faye Jarrell
Walter Curtis Jarvis (1916-1978)
Gordon Lewis Jarvis (1920)
Gladys Elizaeth Jarvis (1920-1923)
Marvin Ross Jarvis (1922)
Norabelle Alice Jarvis (1925)
Dorthie Clara Jarvis (1928-1992) m. Darwin Claude Hamblin (1923)
Bettie Jean Jarvis (1935)

Clarence Damon Jarvis (born 1914) was the boys basketball Coach for El Paso High School for 40 years, retiring when he was seventy years old. Jarvis Court, the street in front of Jarvis Gym, was named in his honor.

------------

Children of Marcus Lee Jarvis and Thelma Howenstine
Margaret Helen Jarvis (1923-1989) m. Edward Francis Story
Joyce Elaine Jarvis (1925) m. Gilbert Dunn

Marcas Lee Jarvis was raised by his Uncle, Alexander "Sandy" Jarvis in Arapaho, OK. Marcus and Thelma are buried in the Arapaho Cemetery.

-------------

Children of Simon Otto Jarvis and Josephine Cornelia Walderon
Infant Jarvis (1923-1923)

-------------

Children of Lula Elizabeth Jarvis and Hubbard Nettleship
Eva Arline Nettleship (1923-?) m. Elbert Nelm Jones

------------

Children of Damon Albert Jarvis and Ethel Maude Bagley
Wilburn Warren Jarvis (1922) m. Joyce Annagay Phillips
Jesse Cass Jarvis (1923) m. Evelyn Ann Taff
Clendian Florence Jarvis (1927) m. Ezra George Cheesbro
Clavis Wayne Jarvis (1929-1948)
Peggy Nell Jarvis (1931) m. Ruben Alexander Lastly
---
©, 2001-2007
Faye Jarvis Moran
faye@fmoran.com

Jacob Hamblin is also researching this family. His email address is: bezer@mail.gte.net
---
Return to Jarvis Homepage