The Jarvis Family and Other Relatives
If you have reached us from Ancestry.com or another cached site,
please go to http://www.fmoran.com/faw.html to see the latest version of this page.
We welcome comments and inquiries. Please write us.
Faw Family
---
Jacob Pfau/Faw (meaning peacock) was born in Basel, Switzerland, in 1723 and was the son of Johannes Pfau and Rebecca Spaar. Jacob was already married to Catherine Disslin when he left Europe in 1749 with his wife and four children. Their daughter, Magdalena, died from small pox while waiting for the ship to leave from London. She was buried just before they set sail. They settled near Frederickstown, MD. Catherine died in 1756 and Jacob soon married Anna Madgalena Yount, another Swiss emigrant who came to America in 1752. In 1778 he sold his land to his son, Abraham, and soon settled in Stokes County, NC (present day Forsyth) with his other sons, Jacob, Isaac and Adam. It is believed that Jacob Faw died c1790/1795 in North Carolina.
In North Carolina the Pfaus settled among the Dunkers in the Muddy Creek area on the southern ridge of Wachovia. This choice of a tract of land would seem to indicate some prior knowledge of the Dunkers.
One of the major reasons why the Fraternity (Dunker) congregation survived the turbulence of the war was the coming of Jacob Pfau (Faw) family from MD, for his descendants served as ministers of the congregation for many generations, and indeed his descendants have continued to play an active leadership role in the denomination in the twentieth century.
---
First Generation
Children of Jacob Pfau/Faw and 1) Catherine Disslin
Elizabeth Pfau (1744)
Anna Catharina Pfau (1745)
Abraham Pfau/Faw (c1747/56-1828) 1) Julianna Lowe, 2) Mary Steiner, 3) Sarah Moody
Magdalena Pfau (1748-1749) (buried in United Kingdom)

--------------

Children of Jacob Pfau/Faw and 2) Anna Magdalene Yount
Jacob Faw II (1765, MD-1838) m. Nancy Elizabeth Hier (1775-?), moved to Ashe Co. NC
Isaac Faw (1773, MD-1835) m. Magdalene Burkhart (1773-?) (m. in 1791), d/o Jehu/John Burkhart
Adam Faw (1775-?) (lived in Ashe County, no other information)
---
Second Generation
Children of Jacob Faw II and Nancy Elizabeth Hier
John Faw (1792-1875) m. Nancy Calloway, d/o Elijah Calloway and Mary Cutbirth
Jonathan Faw (1793-1868) m. Lucy McQuerry (m. 1813, Wilkes County)
Jacob Faw III (1799-1859) m. Mary Calloway (1803-?) (sister to Nancy) (twelve children)
Rudolph Faw (1809-) m. Coonse
Absolom Faw (1812-c1867) m. Caroline Whittington (1820-after 1860), d/o Leonard Whittington and Sarah Kilby
Thomas Faw m. Elizabeth Rash (three children)
Cloe Faw m. Lewis Walters
Mary Polly Faw m. James Burkett
Anne Faw m. William Ray
Nancy Faw

Jacob's home was located along a main wagon route from Statesville NC to TN.  Wagon trains often found warm meals, good beds, and feed for their horses at Jacob's home.  His hospitality was well known.  He farmed, raised horses and each summer took them to Charlotte to sell.

Jacob Faw II is buried in the old Calloway cemetery near the South Fork of the New River. His grave is adjacent to the famous field stone shaft which bears the initials, TC, carved by Daniel Boone and marks the spot where Captain Tom Calloway (Elijah's father) was buried in his dugout canoe in the year 1800.

-------------

From the standpoint of the Dunkers in NC, Isaac Faw was significant because of his leadership of the Fraternity (Dunker) congregation. Nothing is known of his ordination or the exact years of his leadership. He probably took over full responsibility for the Dunker settlement about 1810, after Jehu Burhard departed for Ohio. He was evidently the only Dunker elder in the original area of Dunker settlement along the Yadkin River who did not emigrate to the west with the tide of the frontier.

Children of Isaac Faw and Magdalene Burkhart
Henry Faw (1793-?) did he move to Hardeman County, TN by 1840?
Daniel Faw (1795-1842/1850) m. Anna Blackburn (1797-1873), d/o Bryson Blackburn
Abraham/Abram Faw (1797-1876) m. 1) Mary Harper; (or Blackburn?) 2) Zilphia Harper (1811/13-1879)
Maria/Mary Faw (1800-bef. 1850) m. Thomas Hanes (1796-1872), s/o of Martin Hanes and Susanna Frey
Isaac Faw Jr. (1802-?) m. Polly Martin
Nancy Faw (1805-?) m. George Hanes (1799-1828), s/o Martin Hanes and Susanna Frey
Jacob Faw (1810-1887) m. Sarah Martin (1815-1882) (Dunkard Clergyman)
Elizabeth Faw (1808/1811-?) m. Elijah Slater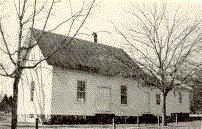 Old Fraternity Church of the Brethren, Clemmons Vicinity
In the late 18th century a group of German Baptists, known as Dunkards or Dunkers, settled near Muddy Creek, close to the southwestern boundary of the Wachovia tract. Among these German settlers were John (Jehu) Burkhart and Jacob Pfau (Faw). Jacob's son, Isaac, (1773-1835) married Burkhart's daughter and Issac assumed leadership of the congregation on Muddy Creek after John Burkhart left. Issac's son, Jacob (1810-1887), rode horseback 100 miles to visit Rev. John Bowman in Rocky Mountain, Franklin County, Virginia. Jacob was baptized over the weekend, took over the congregation in 1845 and led it for 42 years until his death.
During Jacob's Faw's leadership, a white gable-roofed church was erected in 1860. The simple frame church has been expanded since 1860 but the simplicity and functionalism of the building remain unaltered, and the Old Order of the Brethren continues to use the church. The Old Order of the Brethren was formed in 1885 when approximately one-third of the congregation left under the leadership of Jacob Faw. The remaining two-thirds continued to worship under Rufus Faw, an architect and J. Frank Robertson, a farmer, both of whom had entered the Durkard ministry in 1883. A new church was built in 1900 under Rufus Faw's supervision. The new church was remodeled around 1930 and it remains in use today by the Fraternity Church of the Brethren.
---
Third Generation
Children of Daniel Faw and Anna Blackburn
Selena Faw (1823-1879) did not marry
Nancy Faw (1824-aft. 1880) (*Did she marry a Hanes?)
William Faw (abt. 1825-1845) (did not marry)
Mary Ann Faw (abt. 1828-bef. 1845) m. Daniel Orrell (parentage not proven)
Lemuel Faw (1830-aft.1856) (did he move to Montgomery, Texas?)
Calvin Faw (1832-1897) m. 1) Susanna E. Swaim (1846-1870); 2) Elizabeth E. Faw, d/o Abraham Faw
Margy Faw

*Nancy Hanes, age 54, 1880 Forsyth Co. Census, listed with Calvin Faw and his family, occupation is servant.

William Faw's will, proven June Term, 1845, Stokes County, NC - "all profits arising from my plantation until brother Lemuel comes of age; then plantation to go to Lemuel." Mentions brother Calvin and sisters Nancy and Margy Faw.

Anna Blackburn Faw is buried in the Hanes Family Cemetery, Fraternity Church Rd, Winston Salem, NC

------------

Children of Abraham Faw and Zilphia Harper
Norman Faw (1834-1874) m. Anna Seitz (1834-1872)
Esther Caroline Faw (1838-1913) m. William Harrison Crouse (1827-1911)
Martha Faw (1839-1921) m. William Ebert (1828-aft. 1880)
Sarah Faw (1841-1895) m. James Franklin Mendenhall (1831-1917), s/o Alfred Mendenhall and Martha Morris (m. 1859)
Belinda Jane Faw (1843-1918) m. James Spach (1838-1905)
Elizabeth E. Faw (ca. 1846-?) m. Calvin Faw (1832-1897), s/o Daniel Faw and Anna Blackburn; marriage license as Elvin, census records as Elizabeth
John E. Faw (1850-1926) m. 1) Lucy Elizabeth Masten (1850-1882), 2) Sarah A. Stone (d.1932) [error corrected 1/12/04; the wife Elizabeth in the 1880 census was Elizabeth Masten, not Sarah Stone]

__________

Children of Rev. Jacob Faw and Sarah Martin
Rebecca Faw (1836-1892) m. 1) John Wesley Johnson (1832-1857);
2) Christian Henry Robertson (1830-1898)
Amos Faw (1838-1883), a Dunkard clergyman, m. Rebecca M. Sides (1840-1914)
Jonah Faw (1841-1882) [NOT the one who married Lucy Masten; error corrected 1/12/04]
Rhoda Faw (b. & d. 1844)
Maria Faw (1848-1934) m. John Alfred Douthit (1836-1915)
Mary Faw (1850-1903) (mentally incapacitated)
Nancy Faw (1853-1926) m. Levi Herman Sides (ca. 1850-1916)
Eliza Faw (1858-1909) m. Joseph Augustus Tesh (1851-1938)
Enoch Faw (1862-?)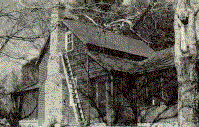 The Jacob Faw House, a log structure probably erected around 1840, stands near the 1860 Dunker Church, the congregation of which Faw led for forty-two years. The house has been expanded and altered since its early construction and it no longer remains in the Faw family. A stepped-shouldered chimney has been rebuilt, and surviving interior architectural fabric is limited.
---
Fourth Generation
Children of Norman Faw and Anna Seitz/Sides
Lewis Henry Faw (1856-1933) m. Clementina Parks
Rev. Enoch Faw (1860-1936) m. Serena Alpha Faw (1864-1939), d/o Amos Faw and Rebecca Sides
Adelia/Delia Faw (1861-1921) m. Uriah Alvin Phelps (1857-1925) (buried Muddy Creek Church of Christ Cemetery)
Lydia Faw (1863-?) m. James Godbey
Ellen Faw (1864-aft. 1880) m. Samuel Swaim
*Laura Faw (1866-1938) (no other information)
Rudolph Faw (1867-1868) (buried Fraternity Brethren (Old Cemetery) Cemetery)

*Laura Faw is buried at the Broughton Mental Hospital, Morganton, NC.

------------

Children of John E. Faw and Sarah (Elizabeth?) A. Stone
Albert M. Faw (1879)

-------------

Children of Esther Caroline Faw and William Harrison Crouse
Lewis C. Crouse (1855)
Mary E. Crouse (1857)
Augustus R. Crouse (1860)
Sarah M. Crouse (1862)
Jacob F. Crouse (1863-1928) m. 1) Mary Ann Vogler (1861-1900), d/o Alexander C. Vogler and Antoinette Susanna Hauser,
2) Henrietta Walker, d/o W. A. Walker
Laura Crouse (1865)
Alice Crouse (1867)
Julia L. Crouse (1869-aft. 1932) m. William F. Raper (?-1932)
Emily C. Crouse (1873)
William Crouse (1875)

------------

Children of Amos Faw and Rebecca M. Sides
John Calvin Faw (1859-1876)
Ida Elizabeth Faw (1861-1889) m. J. A. Weisner
Charles Rufus Faw (1863-1930) m. Rosa Spaugh (1865-1955)
Serena Alpha Faw (1864-1939) m. Rev. Enoch Faw (1860-1936), d/o Norman Faw and Anna Seitz/Sides
*Sarah A. Faw (1866-aft. 1880)
Jacob William Faw (1867) m. Effie Walker
Rhoda Catherine Faw (1869-1951) m. John Daniel
Augusta Susan Faw (1871-1933) m. William H. Teague
*Emily Faw (1871-aft. 1880)
Isaac Christian Faw (1872-1873)
Martha E. Faw (1874) m. Jim Sink
Noah Henry Faw (1876-1950) m. Mary Albert Foltz
Minnie Ellen Faw (1878-1965) m. 1) Mankin A. Flora (1867-1904); 2) Henry Jackson Woodie (1868-1955) Harvey Amos Faw (1881-1925) m. Rosa Thompson (1886-1956)

Sarah A. and Emily Faw's names are not included in the family Bible record but their names do appear as children of Amos and Rebecca in the 1880 cenus record. Tim Fishel contributed the information found in Minnie's Bible. Tim's e-mail is: TimCFishel@aol.com

-----------

Children of Jonah Faw and Lucy Elizabeth Masten
Lucy Faw (1877-1877)
Ella Faw (1879-1962) m. Adam Clark Patterson
Charles M. Faw (1882-1924) m. Eliza L. Pickett

-----------

Children of Calvin Faw and 2) Elvin Faw
Elizabeth Faw (1878)
Ida Mae Faw (1883)
---
Fifth Generation

Children of Lewis Henry Faw and Clementine Parks
Leslie Faw
Ilene Faw
Adelia Faw
Lewis Henry Faw

-----------

Children of Rev. Enoch Faw and Serena Alpha Faw
Cara Faw m. Mr. Nead
Robert Faw

The Rev. Enoch Faw and his family moved from NC to Pomeroy, Washington in 1887 and in 1889 to Idaho. In 1902 they moved to (Yakima) Washington where both

died.
---
Updated February 7, 2003 and January 13, 2004. Updated January 30, 2008.

Sources:

Obituary of Charles Rufus Faw

Personal communications with Dan Stevenson. Dan's email address:dan_stevenson@lajolla.sparta.com
Dan also shared information complied by Mr. Thomas E. Faw, 3465 W. Simone, Tucson, Arizona  85741

Photo and history courtesy of the City-County Planning Board, Winston Salem, NC. From Frontier to Factory, An Architectural History of Forsyth County

For more information on the Kilby, Whittington and Rash lines, visit The Descendants of John Kilby great site!

Personal communications with Jack Lynch. Jack would like to correspond with anyone interested or researching this Faw family. His email address is: dbsbride@ix.netcom.com

Two Eighteenth Century Dunker Congregations, Roger E. Sappington

Forsyth County Cemetery Records

Forsyth County Marriage Records

Bryson Blackburn's Will

1840 US Federal Census, Hardeman County, TN

©, 2001-2007 Faye Jarvis Moran
faye@fmoran.com
---

Return to family pages

Return to Jarvis Family Page