The Jarvis Family and Other Relatives
If you have reached us from Ancestry.com or another cached site,
please go to http://www.fmoran.com/craft.html to see the latest version of this page.
We welcome comments and inquiries. Please write us.
Craft Family
---
Update: In an e-mail dated June 8, 2001 Henry Land identified the parents of Thomas and Vachel Craft as Nathan Craft and Betsey Cooper. Henry is a direct descendant of Nannie Ellen Craft. Henry's e-mail address is: hland@vnet.net
---
First Generation
Children of Nathan Craft and Betsy Cooper
Thomas Craft (1802-1869) m. Summerville Hudson (ca. 1801-after 1880)
Vachel Craft (1804-1866) m. Mary Payne (1810-1872)

Thomas Craft married Summerville Hudson in 1823, Surry Co., NC (she was born in VA about 1801). Vachel Craft (1804-1866) married Mary Payne in Davidson County NC in 1828. Both are buried at Sharon Methodist Church, Forsyth County, as is Mary Payne Craft. In 1880 Summerville Craft, widow of Thomas, is living next to Vachel's son Stephen W. Craft. Vachel's sons Albert and Junius Craft were witnesses to Thomas Craft's will. These associations suggest a close family connection.
---
Second Generation
Children of Thomas Craft and Summerville Hudson
Richard L. Craft (1824-1893) m. Virginia Catherine (Gincy) Harper (1830-1931)
Alice White Craft (1827-1887) m. John H. Stoltz (1830-1889) (attorney).
Elizabeth A. Craft (1829-1859) m. William C. Bodenhamer (1828-1886)
*Nathan Watson Craft (ca. 1831-?) m. Elvina E. Shore, d/o Henry Shore and Susannah Stauber
Nancy H. Craft (ca. 1834-?)
Thomas C. Craft (ca. 1837-1863) (died of fever during Civil War)
Martha S. Craft (1841-1862)
George N. Craft (ca. 1842-1862) (died of dysentery during Civil War)

*Previously we had Nathan W. Craft's wife incorrectly named Emeline. Error corrected January 10, 2004

Rev. Thomas Craft, aged 66 years, 8 months and 4 days, (died) Jan. 18, 1869 in Forsyth County. The deceased was for forty-five years a faithful and zelous minister of the Gospel in the Methodist Episcopal Church. -- Death Notices from the People's Press (Salem, North Carolina) 1851-1892.

----------

Children of Vachel Craft and Mary Payne
Theresa Craft (abt. 1830-aft. 1870) m. Daniel Doub (1814-1874) (his second wife)
Stephen Winbern Craft (1831-1895) m. Margaret Jerusha Casey (1842-1926), d/o Henry Casey and Sarah Windsor
Nathan L. Craft (abt. 1834-1864) m. Charity Emeline Terry (abt. 1840-?), d/o William W. Terry and Eleanor Banner
Rev. Albert W. Craft (1835-1911) m. 1) Julia Permelia Shore (1842-1890), 2) Jane P. Vest (1842-1917)
Mary E. Craft (abt. 1839-aft. 1870) m. Augustus Cooper, s/o Samuel and Ann Cooper of Ashe Co. NC
James Calvin Craft (1840-1863) (died of disease in Richmond, Va).
Junius Irving Craft (1842-1918; fought in Civil War) m. 1) Harriet Jane Kimel (1849-1872), 2) Martha A. Styers (1846-1923)
Cynthia Leah Craft (1846-1930) m. Jonas P. Binkley (1847-1921)
Sarah Craft (ca. 1847-?) m. 1) John Wesley Hauser (1837-1869); 2) Joseph Franklin Swaim (ca. 1832-?)
Senia E. Craft (1850-1922) m. Norman Eugene Whitman (1851-1934), s/o Jacob Whitman and Millie Binkley
John T. Craft (1854-1942) m. Mary Wright (1858-1937) d/o William A. Wright and Charlotte Sophia Pfaff

This family group was revised on December 20, 2003. Several spouses and new links were added.
---
Third Generation
Children of Richard L. Craft and Virginia Catherine (Gincy)Harper
John Wesley Craft (1857-1878) (died of typhoid fever)
Sarah Jane Craft (1860-1861)
George Milton Craft (1862-1935) (mentioned in his grandfather's will, 1867) m. Cynthia Waggoner (1863-1950)
Ellen S. Craft (1865-1947) did not marry (living with her mother in 1910, Lewisville, NC)
Alice E. Craft (abt. 1867-after 1930) m. J.A. Long
Thomas Albert Craft (1869-1940) m. Eliza Sue (Susie) Styers (1876-1944), d/o Abraham Allen Styers and Millie Ann Crews
Jennie Craft (ca. 1872-?)
Martha A. Craft (ca. 1874-?)

Richard, Gincy, John Wesley and Sarah Jane are buried at the Old Harmony Grove Cemetery, Lewisville, NC.

---------------

Children of Nathan Watson Craft and Elvina E. Shore
Ada S. Craft (abt. 1858-bef. 1870)
Tobias Selden Craft (abt. 1861-aft. 1880)
Alice P. Craft (abt. 1862-aft. 1880)
Elizabeth Craft (abt. 1866-aft. 1880)
Lydia E. Craft (abt. 1867-aft. 1880)

----------------

Children of Stephen Winbern Craft and Margaret Jerusha Casey
Virginia Ann Craft (1863-1939) m. Solomon Whitfield Doub (1856-1938)
James C. Craft (1865-1936) m. Lillian E. (Lillie) Doub (1868-1950)
William A. Craft (1868-1929)
Sarah E. Craft (1871-?)
Mary J. Craft (1873-1940) m. Shuman B. Wilson (1873-1951)
Martha P. Craft (ca. 1875-1931) m. Charles A. Hauser (ca. 1870-1929)
Elizabeth Craft (1878-1964) probably m. Jackson M. Fowler (1881-1930)
George H. Craft (?-1968

------------

Children of Nathan L. Craft and Charity Emeline Terry
Charity Craft (abt. 1859)
*John William Craft (abt. 1860-aft. 1910) m. 1) Martha Jane Bowman (1863-1894); 2) Sarah Warner (1855-1924);
3) Della Holder
Mary Ellen Craft (1862-1945) m. Elijah F. Tuttle

*(living with his grandfather, William W. Terry, in 1870)

--------------

Children of Junius Irving Craft and Harriet Jane Kimel
Charles V. (Charlie) Craft (1872-1934) m. Martha A. Newby (1876-1953)

Charlie Craft was given out as a "bound boy" after his mother died when he was a few weeks old and he remained bound out even after Junius married Martha Styers. In his early twenties, Charlie moved to Indiana where he worked among some of the North Carolina Quakers who had moved there to escape the Civil War. He married Martha Newby, whose paternal and maternal families, the Newbys and Harolds, are still to be found in North Carolina, but whose Indiana branch came west by covered wagon. After that, they moved to the territory of Oklahoma, where they opened the first Quaker academy in that state. Later Charlie and Martha moved to Colorado where most of the descendants of their six children still live and are planning a joint reunion with the North Carolina Crafts next summer. Meanwhile, one of our North Carolina relatives, Neil Leinbach, has written a book about the life of Charlie Craft which is not yet published. -- Updated June 14, 2004. Jan Sacherer Turner, great grandaughter of Charlie Craft. jturner@sunny-net.ne.jp

Children of Junius Irving Craft and Martha A. Styers
Odella Madoria Craft (abt. 1875-1958) m. Ellis Lineback
Etta Amelia Craft (abt. 1877-1942) m. William Alexander Linebach (?-1919)
Calvin Craft (abt. 1879-bef.1900)
Samuel I. Craft (abt. 1889-1959)
Virginia W. Craft (1881-1960) m. J. Robertson
Daisy E. Craft (abt. 1882-1935) m. David Endsley
Martha Blanche Craft (1891-1979) m. Ellis Livengood

In the 1880 census, Madoria is listed as 5, a daughter Eliza is 3, and Calvin is 1. Etta Amelia Craft Linebach died 31 May 1942, and her obituary gives her age as 65, suggesting that she was born about 1877, and hence must be "Eliza" of the census. The obituary names as survivors her sisters Della, Virginia and Blanche and brother Samuel. Charlie, Madoria and Calvin aren't mentioned. Is "Madoria" the same as one of these sisters? Update: Madoria was actually named Odella Madoria, hence the previous confusion. In th 1900 census, Martha indicates she had 10 children, 6 are living, so Calvin must have died prior to 1900.

----------------

Child of John W. Craft and Mary Wright
Mary C. (Mamie) Craft (1876-1967) m. Jonah Lewis Warner (1866-1944)
---
Fourth Generation
Children of James C. Craft and Lillie Doub
Carrie J. Craft (abt. 1880-aft. 1910)
Pearle Craft (abt. 1889-1938) m. I. Miller
James Henry Craft (abt. 1892-aft. 1960)
Arthur E. Craft (abt. 1894-aft. 1900)
Anna B. Craft (abt. 1897-aft. 1900)
Martha (Mattie) Craft (abt. 1900-aft. 1923) m. William Lasley
Winbern Craft (abt. 1902-1972)
Spencer Craft (abt. 1905-1961)
Lillian Craft (abt. 1907-aft. 1930) m. Kerner James H. Stoltz
Paul Craft (abt. 1912-1929)

---------------

Children of John William Craft and Martha Jane Bowman
Nannie Ellen Craft (1881-1978) m. Henry Clay Jones (1880-1965)
Charles Marvin Craft (1883-1952) m. Laura Elizabeth Jarvis (1886-1972)
Emma Craft (1886-1976) m. Edwin Frank Salmon
Lula Mae Craft (1888-1978) m. Lawrence B. Harding
George William Craft (1892-1919)

-----------

Children of Charles V. (Charlie) Craft and Martha Newby
Paul V. Craft (1896-1977) m. Flossie A. Newman (1900-1973)
Buelah F. Craft (1903-1994) m. Leslie Carpenter
Harriet Marie Craft (1907-1999) m. Martin John Lang
Cecil Irving Craft (1909-1965) m. Ellen Erikson
Harold Newby Craft (1912) m. Velma Kimball
Forrest Emanuel Craft (1914-1969) m. Bernice Campbell
---
Fifth Generation
Children of Charles Marvin Craft and Laura Elizabeth Jarvis
Charles Marvin Craft, Jr. (1909-1965) m. Willie (Billie) Swain (1911-1999)
Margaret Craft (1911-aft. 1930) m. J. L. Simmons
Gladys Arlene Craft (1913-aft. 1930) m. Fait Huffman
Doris Louise Craft (1919-1993) m. Austin Delton McGuire (1914-1985)
Gilbert Monroe Craft (1925-1993) m. 1) Florence Davis; 2) Genieve Speaks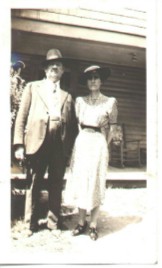 Charles Craft and Laura Jarvis
Photo of Craft and Jarvis Children
---
Sources:

Forsyth County census, marriage, wills, cemetery, obituary and death records

Thanks to Henry Land, Evelyn Sell, Paula Windsor Bennett, and Reid Craft. Reid Craft's e-mail address is: rcraft1540@nc.rr.com

If you have information on this Craft Family, please contact Faye Jarvis Moran at: faye@fmoran.com

This page was revised on June 12, 2001; December 20, 2003; June 14, 2004; July 30, 2007

©, 2001-2007
Faye Jarvis Moran and Elizabeth H. Harris
faye@fmoran.com, ncgen@mindspring.com
---
Return to Jarvis Family Page