James Mullikin's name first appears in the Maryland records in 1660 when "came Thomas Williams and demands land for the transportation of ......James Mullikin...." and others brought all, come over in the year One Thousand Six Hundred and Sixty."

On April 18, 1664 James Mullikin patented a 300 acre tract in Dorchester County and called it "Mullikin's Orchard." In August, 1665 he purchased another 200 acres and named it "Mullikin's Green."

James lived in Calvert County on the Patuxent River and was a planter. By 1659 James was married to Mary Weylett Darnall, the widow of John Dammarell/Demall/Darnall who died in 1657. She brought one son to the marriage. James Mullikin's will was written August 18, 1666 and probated October 16, 1667.

Harvey M. Mullikin of Anderson, South Carolina now has a Mullikin/Mullican website with lots of documentation - Descendants of James Mullikin I. Harvey's new email address is: hmmullikin@att.net Well done, Harvey.
---
First Generation

Children of James Mullikin I and Mary Darnall
James Mullikin (1661-bef. 1718) m. Mary Jane Prather (1658-bef. 1718), d/o Jonathan Prather and Jane McKay
Mary Mullikin (abt.1666)
Elizabeth Mullikin (abt. 1668) m. Richard Hartrup

Mary Mullikin left "Mullikin's Orchard" to her son James. John Dammarell/Darnall, her son from a previous marriage, received "Mullikin's Green." After James' death Mary Darnall Mullikin married James Williams by 1668.
---
Second Generation

Children of James Mullikin II and Jane Prather
James Mullikin III (1681-1740) m. Charity Belt, d/o John Belt and Elizabeth Tydings
John Mullikin (1683) m. Katherine
Mary Mullikin (1685) m. John Bowie/Boye, Jr. (1688-1759)
Jane Mullikin (1687)
William Mullikin (1690) m. Margaret Turner
Eleanor/Ellen Mullikin (1692-abt. 1709)
Thomas Mullikin (1694) m. Elizabeth Wilson
January 12 1694 - James Mullican of Calvert Co., planter, sold to Thomas Atthow of Dorchester Co., in consideration of a tract of 300 acres called Mullikins Chance on Patuxent River, 300 acres of Mullikins Orchard on Transquakin River and 200 acres of Mullikins Green on Transquakin River. Jane is mentioned as wife of James Mullikin. Extracted from the Maryland Genealogical Society Bulletin, Summer 1993, Volume 34, Number 3
---
Third Generation:

Children of James Mullikin III and Charity Belt
James Mullikin IV (1709-10) m. Mary Pottenger
Elizabeth Mullikin (1711-1775) m. Samuel Duvall (1707)
Mary Mullikin (1714-?) m. Samuel Norwood (abt. 1706-?), s/o Samuel and Sarah Norwood, Anne Arundel County
John Mullikin (1716) (evidently died young)
Margaret Mullikin (1719-?) (not mentioned in Will)
Jeremiah Mullikin (1722-bef. 1789) m. Margaret Waters
Belt Mullikin (1725-?) (not mentioned in Will)
Charity Mullikin (1727-?) (not mentioned in Will)
Thomas Mullikin (1729-1805) m. Elizabeth Ellen Williams
Benjamin Mullikin (1731-?)

-----------

Children of John Mullikin and Katherine
Lewis Mullikin (1723 -aft. 1796) m. Mary (1727-?)
Katherine Mullikin (1727-?)
John Mullikin (1730/31-?) (no other information)

------------

Children of Mary Mullikin and John Bowie/Boye, Jr.
Eleanor Bowie (1709) m. Edward B. Clagett, Jr. (1706-1755), s/o Richard Clagett and Deborah Dorsey
Mary Bowie (1728-1792)
John Bowie (1708-1753)
James Bowie (1714-1744)
Allen Bowie (1719-1783)
Capt. William Bowie (1721-1791) Thomas Bowie (1722-1758)
Lucy Bowie (1723-1750) m. Hilerary Lyles

-------------

Children of William Mullikin and Margaret Turner
Margaret Mullikin
Basil Mullikin
Mary Mullikin

-------------

Children of Thomas Mullikin and Elizabeth Wilson
John Mullikin (1715-?)
Rachel Mullikin (1718-?) m. John Goodman
Mary Mullikin (1723/4-?) m. Mr. Harper
Elizabeth Mullikin (1728/9-?)
William Mullikin (died ca. 1751)
Thomas Mullikin m. Elizabeth Williams (m. 1761)
Charity Mullikin
Eleanor Mullikin
---
Fourth Generation:

Children of Lewis Mullican, Sr. and Mary
John Mullikin (1752-1837) (twin) m. Miss Price (moved to Shelby Co., KY)
Elizabeth Mullikin (1752-?) (twin). Did she marry John Smith in 1796 and move to Clark County, KY?
Archibald Mullikin (1753-aft. 1790) m. Elizabeth Vincent (living in Montgomery Co., MD, 1790; moved to Mason County, KY?)
Mary Mullikin (1755-?)
Lewis Mullikin Jr. (1757-1836) m. Susannah T. Jarvis (1760-1844)
Esther Mullikin (1759-?)
Humphrey Becket Mullikin (1763-?)
Catherine Elizabeth Mullikin (1765-?) m. Adam Elrod (1753-?) moved to SC
Benjamin Mullican (abt. 1765-1852) m. Margaret Jarvis (1766-1843)
Margery Mullican m. Henry Boyer (1769-?)

(The birth records for all the children except Benjamin and Margery are recorded in Prince George's Parish Church Records)
---
Fifth Generation

Children of Lewis Mullikin and Susannah T. Jarvis
*James Mullican (1782-?) (left NC ca. 1815, nothing else is known)
Humphrey Mullican (1784-aft. 1816) m. 1) Jane Potts (?-1812); 2) Nancy Howard
Zedoc Mullican (1786-ca. 1814) m. Elizabeth Myers in 1810 (no issue)
Thomas Mullican (1788-?) m. Casey Myers (m. 1812; bondsman, Zadock Jarvis)
Elizabeth Mullican (1794-aft.1856) m. Zedoc Thompson
Sarah Mullican (1797-bef. 1835) m. John Brindle

Cemetery listings for Muddy Creek Church of Christ in Forsyth County, near Davidson County line, a new marker reads: "In memory of Lewis and Susana Jarvis Mullican. Migrated from MD and purchased land from Earl of Granville in 1781. He was a soldier of the Revolution."

*While browsing the Footnote.com Rev. War records, I found the following information in the pension file of William Hubbard, a Rev. solider: James Mullikin, Magistrate in the Anderson District, South Carolina, 27 August, 1853, states he has lived in South Carolina for about 40 years, and knew William Hubbard since he was twelve years of age, both living at the time in Guilford County, NC. Could this James Millikin possibly be the son of Lewis and Susannah Mullican? Susannah's brother, Elisha Jarvis, also went to South Carolina when he left Rowan County, NC.

In a letter dated February 13, 1931 to Miss Ellen Mathas of Franklin, Indiana, from E. W. Morgan, Acting Commissioner, Rev. & 1812 War Section it states: "You are advised that it appears from the paper in the Revolutionary War pension claim. W.18545, that Lewis Mulliifkan, also appears Mulliken and Mullican, was born in 1755 in Montgomery County, Maryland. While a residen to Montgomery County, Maryland, he enlisted in 1776 and served four months as private in Captain Benjamin Spyker's Company, Colonel Murdock's Maryland Regiment of the Flying Camp and was in the battle of White Plains. He enlisted the following year summer, served four months as private to Captain A. Rigg's Maryland Company and was in the battle of Germantown. He was allowed pension on his application executed November 15, 1832, while a resident of Davidson County, formerly Rowan County, North Carolina, where he moved from Maryland about the close of the war. He died March 3rd or 6th, 1836. His widow, Susannah T. Jarvis, was allowed penion on her application executed June 29, 1842, at which time she was a resident of Davidson County, North Carolina, aged eighty-two years. She died January 1, 1844, survied by one child only, Elizabeth Thompson, who was a resident of Davidson County, North Carolina in 1851.

Lewis and Susannah Mullican's home
---
Sixth Generation:

Children of Humphrey Mullican and 1) Jane Potts
Patsy Mullican (abt. 1803-bef. 1847) m. Jacob Painter (Jacob married second, Charlotte Martin)
Lewis Spencer Mullican (1808-1889) m.Salome (Sarah) Rominger
(Humphrey Mullican left NC and also left his son, Lewis Spencer, for his parents to raise.)

Children of Humphrey Mullican and 2) Nancy Howard
John Mullican (1811-1878) m. Sarah Brown Helper, widow of Daniel Helper (1798-1830)
another child, name unknown (abt. 1813- aft. 1836)

Children of Sarah Mullican and John Brindle
Susana Brindle (1822-1900) m. Peter Hoover (1812-1874)
---
Seventh Generation
Children of Lewis Spencer Mullican and Salome (Sarah) Rominger
Martha Carolyn Mullikin (1830-aft. 1850) m. Alexander Ellis (abt. 1828-1909), s/o Ransom and Sarah Ellis
Sara Elizabeth Mullican (1835-1844)
Amanda Rosina Mullican (1838-1878) m. Charles F. Brendle (1834-1900) (who are his parents?)
Eli Wilson Mullican (1841-1937) m. 1) Sarah Caroline Nelson (abt. 1841-1871), d/o Milton and Sarah Nelson,
2) Susan Catherine Shutt (1855-1908)
Andrew Alexander Mullican (died in infancy)
Lewis Cornelius Mullican (1846-1928) m. Nancy Catherine Vest (abt. 1844-1912)
Rebecca Virginia Mullican (1850-1937) m. Samuel Joseph Davis (1853-1935)
Enoch Pierce Mullican (1853-1945) m. Catherine (Katie) Krites/Kritespheaser (1862-1948)

Eli Mullican was the first to change the spelling of his name to "Mullican". He joined the Union Army, much to the displeasure of his father, while he was visiting in TN - 13th Calvary Reg't.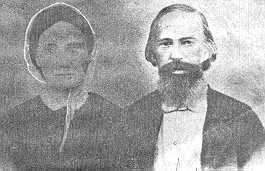 Salome Rominger and Lewis Spencer Mullican
-----------
Children of John Mullican and Sarah Brown Helper
Elizabeth Helper Mullican (1836-1912) [death date corrected 3/23/04]) (deaf mute)
Lewis Spencer Mullican (1838-aft. 1865) (moved to Camden, SC) (no descendants)
Sarah Jane Mullican (1841-1901) m. 1) George Coon (1797-1880); 2) William Harrison Booe
Lewis S. Mullican enlisted in Davie County, NC, June 6, 1861 and mustered into the "G" Company, NC 4th Infantry. He was transferred out in 1865 and joined the Veteran Reserve Corps. During his service he was wounded twice and promoted to Sergt. in about 1862. L. S. Mullican, Sergt., Company G., 4th Regiment, North Carolina served in the Confederate Army. His name appears on the register General Hospital, Howard's Grove, Richmond, VA, May 10, 1863. In Lewis's medical record he is described as 5'11" tall, dark complexion, dark eyes, dark hair and at the time of enlistment, his occupation was farmer. His wonds were extensive: amputation of left arm above elbow, gun shot wound in right shoulder, discolation of finger, and bayonet wond to right thigh.
---
Eighth Generation:

Children of Martha Carolyn Mullikin and Alexander H. Ellis
Eugene Ellis (1848-1912) (moved to Memphis, TN and then to Arkansas)
Winfield Ellis (1851-aft. 1870) m. Dorcas Brandon
Leanor Ellis (1854-1947) m. Thomas Hoffman (?-1937)
Roswell Ellis (1857-1948) m. Lillie McDonald, d/o William and Pauline McDonald
Florence Ellis (1857-1898) m. Daniel Woosley (1859-1937), s/o Thomas Woosley and Martha Shelhorn
John W. Ellis (1860-1931) m. Amanda Harvell
Lewis Edward Ellis (1866-1950) m. Carolyn Mullican, d/o Eli Wilson Mullican
Ira A. Ellis (1874) m. Ada Riddle

-----------

Children of Eli Wilson Mullican and Susan Catherine Shutt
Carolyn (Carrie) Mullican (1874-1954) m. Lewis Edward Ellis (1866-1950), s/o Alexander Ellis and Martha Carolyn Mullikin
Charlie Mullican (1876-1921) m. Minnie Dunnagan/Dunning
Daisy B. Mullican (1878-1937) (buried in TX) m. Hillary Shoaf (buried in NC)
Roscoe Mullican (1880-1881)
Lewis Mullican (1881-1923) (buried in Chicago)
Annie Pearl Mullican (1884-1978) m. Grover T. Dorse (1886-1970)
Beaula Mullican (1886-1886)
Paul Eli Mullican (1890-1941) m. Fannie Lily Tuttle (1894-1971) (3 children)
Grace Mullican (1892-1981) m. Ross Thomas Bryant (1892-1946)
Maude Mullican (1894-?) m. 1) Ollie Thompson; 2) Guy Grover Jones of CA
Ruth Mullican (1895) m. Ruffin Yarbrough

-----------

Children of Lewis Cornelius Mullican and Nancy Catherine Vest
Charlie Mullican (1870)
Virginia Cornelia (Nelie) Mullican (1870-1932) m. Elisha E. Slater (1861-1928), s/o Thomas Slater and Mary Boyer
William Pearson Mullican (1872) m. Nellie C. Coletrain
James J. Mullican (1873-1937) m. Ella Hire (1872-1963), d/o Salathiel Hire and Louisa Boyer
Rossie Charles Mullican (1877) m. Alma Knight, of Fairfax, S.C.
Carnelia Mullican (1878)
Luther Mullican (1881-1939) m. Annie Jones
Mary/Mamie Mullican (1883-1918) m. Samuel (Sanford?) C. Harper
Stella Catherine Mullican (1888-1972) m. Herod H. Hundley

------------

Children of Enoch Pierce Mullican and Catherine (Katie) Krites/Kritespheaser
Emma Mullican (1883-1974) (did not marry)
Jennie Mullican (1887-1985) (did not marry)
Naamon Spencer Mullican (1889-1974)
Noble Mullican (1897-1982) m. Ruth Hennis
---
Ninth Generation

Children of James J. Mullican and Ella Hire
Nellie Mullican m. Wade H. Campbell
Blanche Mullican
Ida Mullican (?-1972)
Lula Mullican
James Mullican, Jr.
---
Sources:


Lewis Mullican's pension application and Lewis S. Mullican's Confederate and medical records can be seen at Footnote.com

Mullikins and Mullicans of North Carolina, by his Great-great-grandson N. Spencer Mullican

Personal communications with Harvey Mullikin. Harvey's email address is: hmullikin@earthlink.net

Will Records, Rowan County, NC. Will Book D, page 206 (1797-1801)

Records from St. Barnabus Church in Prince George County, MD

Quitt Claim Records -

Volume (Liber) 4, page (folio) 94 & 95.

Land Records (Deed-Liber M,

folio 223, Upper Marlboro).

Patent Records January 1664-Recorded in Hall of Records, State of Maryland Volume (Liber) 7, Page (Folio) 498 & 499.

The Provincial Records of Maryland (1657-1658) (Liber S-pp33,64,49,109, & 113-Calvert Co.)

Copy of Lewis Mullican Sr.'s Will, 1797/1801

Copy of Lewis Mullican's Will, 1835

Abstracts of the Wills & Estates Records of Rowan County, North Carolina, 1753-1805 and Rowan County Tax Lists of 1759 and 1778, Mrs. Stahle Linn, Jr., P O Box 1948, Salisbury, NC 28145-1948

Jarvis Family history

Minor changes were made to this page on March 30, 2004, October 18, 2004 and again on January 31, 2007
---

Return to List of Family Names

Return to the Jarvis Family Homepage