The Jarvis Family and Other Relatives
If you have reached us from Ancestry.com or another cached site,
please go to http://www.fmoran.com/schott.html to see the latest version of this page.
We welcome comments and inquiries. Please write us.
Schott or Shutt Family
---
Edith R. Zimmerman and B. D. Zimmerman have published the Professional Ledgers of John Edward Bell Shutt, Woodcraftsman and Undertaker, Shady Grove Township, Advance, N.C. If you are interested in the history and people of the Shady Grove Township of Advance, and Davie County, NC, then you will want to read this book. Lots of local names, including the names of persons who ordered coffins for burial and the name of the person who was to be buried. You can order this outstanding book from: Mrs. Edith Zimmerman, 3041 Cornatzer Rd., Advance, NC 27006 or e-mail BZ at BEZIM@aol.com. The price is $30.00 and includes shipping and handling and tax.
First Generation
Johann Jacob Schott was born Feb. 12, 1748, in Zweibruecken, Germany, and died July 8, 1821 in Friedberg NC. He was in NC by 1772, when he married Elizabeth Berrier (Berger in some early records; 1754-1821) in Rowan County. Johann Jacob purchased property in the Wachovia settlement in 1773 in Friedberg. The Moravian records show that in 1776 he was nominated road master of Friedberg. In August of 1781 he requested that he and his wife be received into the Friedberg Society, and he served as a steward in the church for several years. Active in the community and its functions, Jacob served as the area "veterinarian" from 1788 and later. Jacob and Elizabeth had eleven children, all born in Friedberg. The surname becomes Shutt among most of their descendants. However, there is one Schott family in the 1850 Forsyth Co. census who subsequently become Scott. We don't know yet whether they are descendants of Jacob and Elizabeth.
---
Second Generation Children of Johann Jacob Schott and Elizabeth Berrier/Berger
Johann George Schott (1773-1850) m. Maria Boeckel (1781-1849)
Philip Charles Schott (1775-1845) m. Anna Catharina Barbara Vogler (1761-1842; her first husband was Jeremias Elrod)
Catharina Schott (1777-1782)
Elizabeth Schott (1779-1781)
Johannes (John) Schott/Shutt (1782-1860) m. Anna Elizabeth Hauser (1781-1866)
*Friedrich Jacob Schott (1785-1849) m. ? 1) Sarah Hess, 2) Barbara Berrier (1774-1810), 3) Elizabeth Rothrock
(1788-1826, d/o Valentine Rothrock and Eva Elisabeth Volz), 4) Maria Salome Lanius (1783-1849), widow of John Holder,
and 5) Sibley? Isabel?? Northern, probably a widow.
unnamed daughter b. & d. 21 Mar 1787
Eva Barbara Schott (1789-?) m. David K. Michaels (c. 1785-1862) (died in Coles Co., IL)
Christina Schott (1792-?) m. Philip Rothrock (1785-ca. 1840), son of Philip Rothrock and Eva Elizabeth Weller
Christian Schott (1794-1868) m. Catharina Boeckel (1798 - bef. 1850)
Maria Magdalena Schott (1797-1882), m. John Kell (1791-1863) (moved to Sequatchie Valley, TN betw.1840-50)
*There is a Stokes Co. marriage bond for Sally Hess and Frederick Shuts, 1804, but we aren't sure this is Friedrich Schott. Can anyone confirm?
There is a Forsyth County marriage record for "Zebeby" Northern and Frederich Shutt on 22 Jun 1849. "Sibley" Shutt then married Christian Essix on 25 Jan 1850. In the 1850 census her name is given as "Isibel", and she seems to have a daughter, Amanda Northern, age 12. Maria Salome Lanius Holder Schott died in January 1849, and Friedrich Jacob didn't die until July 18 of that year. Moravian records at the time of his death refer to him as a married man, not a widower, so it would appear that he married again in June and died less than a month later.
---
Third Generation Children of Johann George Schott and Maria Boeckel
Anna Schott (b. & d. 1800)
Jacob Schott (1801-1804)
Heinrich or Henry Schott (1805-1849) m. 1) Sarah McCrary (1812-1834), 2) Rachel Hein (1811-1879), widow Swaim
Eva Barbara Schott (1806-1841), did not marry
Elisabeth Schott (1808-1847) m. George Spach (1789-1866)
Lucetta or Lucy Schott (1810-1889) m. Charles Chitty Jr. (1804-1871)
Philippina Schott (1813-1822)
Solomon Schott (1816-1880) m. 1) Salome Foltz (1816-1852), 2) Nancy Caroline Crouch (1825-1889), daughter of Charles Crouch and Catherine Glasscock; she was the widow of Madison Foltz
Mary Magdalene Schott (1819-?) m. ? Thomas Shore (1811-1880)
----------
Child of Friedrich Jacob Schott and 2) Barbara Berrier
Elisabeth Schott (1810-1891) m. Joseph Nading
Barbara Berrier was the daughter of Rudolph Berger/Barier and Anna Catharina (Helmstetler -by traditon)
(This information from Stephanie, e-mail address: info@conquestmusic.com
Children of Friedrich Jacob Schott and 3) Elizabeth Rothrock (m. 1812)
Andreas/Andrew Schott (1813-1823)
Delila Schott (1817-?)
Christian Schott (1819-1821)
---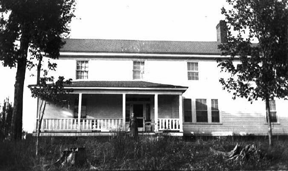 Shutt/Hanes Home
Legend is that this house was built by the Dunkers as a church. The house was the residence of Christian Schott/Shutt and family until around 1854 when they moved to Davie County. At that time Lewis Hanes bought the house and by 1857 had hired Abraham Faw to built an addition as seen here (see: June 1, 1856 Jacob Hanes letter & Apr. 28, 1858 Lewis Hanes letter in the Nathan Jarvis letters). This 1920 picture shows Laura Hanes on the porch step. She was d/o of Edwin Hanes, who was 1st cousin to Lewis Hanes.
Children of Christian Schott and Catharina Boeckel
John Wesley Shutt (1823-1888) m. 1) Mahala Jane Sidden (1827-1870), 2) Sarah B. Ellis (1827-?)
Maria Catharina Shutt (1824-?)
George Valentine Shutt (1825-1875)
Sarah (Sallie) Jane Shutt (1828-1906) m. James (Jimmie) Myers (1824-1912)
Samuel Alexander Shutt (1829-1899)
Christina Shutt (ca. 1832-?) m. John Jarvis (1830-?)
William Theophilus Shutt (1833-1878) m. 1) Mary Jane Berryman (1836-1855), 2) Martha C. Orrell (1838-1904)
Nancy C. Shutt (1838-?)
Phoebe J. Shutt (1841-1914) m. Daniel Zimmerman (1828-1900)
---
Fourth Generation:

Children of Henrich Schott and Sally McCrary
Nelson Schott
Antoinette Schott/Shutt (ca. 1833-? d. betw. 1870 and 1873) m. Anderson Rominger (1826-?; m. 1851)
Wesley Schott (1834-bef. 1870) m. Anna Jenetta Shore (1830-1877)

------------

Children of Solomon Schott and Salome Foltz
Martha Louisa Shutt (1841-1893)
Samuel Joshua Shutt (1842-?; Civil War veteran) m. Mary Rosema Dart
Anna Lucinda Shutt (b. & d. 1843)
James Casper Shutt (1845-1911) m. 1) Mary (Maria) Henrietta Rothrock (1839-1904), 2) Lenora Myers (1877-1949)
John Emanuel Shutt (ca. 1848-?)
Phebe Hassettine Shutt (1851-1920) m. Christian Augustus Shoaf (1850-1932)

------------

Children of Solomon Schott and Nancy Caroline Crouch Foltz
Snider (Sandy) Alexander Shutt (1854-1940) m. 1) Harriet Almira Rominger (1866-1894), 2) Mary Alma Hauser (1878-1948)
Susan Catherine Shutt (1855-1908) m. Eli Wilson Mullican (1840-1937)
Jordan (Jerd) Shutt (1855-1928)
Enoch Franklin Shutt (1860-1936) m. 1) Emily L. Todd (1861-1884), 2) Sarah Alice Nifong (1857-1900)
Joseph E. Shutt (1862-1914) m. Lucetta M. Ketner (1867-1894)
Mary L. Shutt (1864-?) m. John M. Wimmer (Wirner)
Annie (Anna) Missouri Shutt (1867-1924) m. Rufus D. Conrad(1867-1939)

----------

Children of John Wesley Shutt and 1) Mahala Jane Sidden
Lisan Drey Shutt (b. & d. 1859)
John Edward Bell Shutt (1860-1932) m. Florina Jane Sink (1863-1944)
George Henry Clay Shutt (1862-1935) m. Mary Alice Byerly (1861-1937)
Lucy Jane Catherine (Kate) Shutt (1864-1930)
Martha Frances (Fannie) Rebecca Shutt (1866-1943) m. Daniel Elisha (Lish) Holder (1866-1894), s/o Albert Ambrose Holder
Jacob (Jake) Samuel Alexander Shutt (1869-1937) m. Mary (Mamie) Eliza Howard (1876-1932)

------------

Children of William Theophilus Shutt and 1) Mary Jane Berryman
Charles Augusta Shutt (1855-1916) m. Nellie Matthews (1865-?)

Children of William Theophilus (Oph) Shutt and 2) Martha C. Orrell
infant girl (1857-1859)
John Orrell Shutt (1860-1944) m. Nannie Marshall (1864-1939)
William Frank Shutt (1863-1940) m. Frances Elizabeth Marshall (1870-1940)
Zachari Taylor Shutt (1868-1952) m. Josephine P. Kinchen (?-1943)
Sarah Jane (Sallie) Shutt (1876-1880)
Easter Shutt (1874-1921) m. Bryce Marshall
---
Fifth Generation

Children of James Casper Shutt and 1) Mary (Maria) Henrietta Rothrock
David Franklin Shutt (1866-1935)
Henry D. Shutt (1868-1935) m. 1) Bettie Mitchell (1866-1899), 2) Lillian Burke
Ada Louise Shutt (1870-1884)
Gertrude H. Shutt (1879-1896)
Frances Verona Shutt m. Albert Lee Griffith
John Sylvester Shutt (1876-1935) m. Dora Catherine Burke (1879-1971)
Samuel Eugene Shutt (1874-1943) m. Lula Reich (1879-1941) (Photo)

Children of James Casper Shutt and 2) Lucinda Lenora (Syn) Myers
Harold Eugene Shutt (1901-1960) m. Pearl Vogler (1904-1990)

------------

Children of Snider (Sandy) Alexander Shutt and Harriet A. Rominger
Flora Rozema Shutt (1883-1973) m. William Albert McKnight
Infant Shutt (1884-1884)
Sarah Ann Shutt (1887-1888)
Effie L. Shutt (1889) m. H. Jones Joyner
Zeno (Jake) Rufus Nathaniel Shutt (1890-1929) did not marry
Samuel Shutt (1893, buried in Texas)

------------

Children of Enoch Franklin Shutt and 1) Emily L. Todd
Author Solomon Shutt (1884-1884)

Children of Enoch Franklin Shutt and 2) Sarah Alice Nifong
Bunther Elizabeth Shutt (1885-1885)
Ralph Joseph Adam Shutt (1886-1963) m. Perlie Cordelia Thomas (1888-1974)
Eugene Jordon Shutt (1888-1923) did not marry
Alma Mary Catharine Shutt (1890-1967) m. Robert Eugene Johnson (1880-1963)
Albert Thomas Franklin Shutt (1893-1961) m. Flora Ann Abigail Bodenhamer (1895-?)

------------

Children of Joseph E. Shutt and Lucetta M. Ketner
Sarah Lee Shutt (1889-1961) m. Joseph Franklin McKnight, Sr. (1889-1963)

------------

Children of Mary L. Shutt and John M. Wimmer (Wirner)
Malcom Wimmer (1887-?)

------------

Children of Annie (Anna) Missouri Shutt and Rufus D. Conrad
Mabel Roxanna Conrad (1891-1968) m. Noah Olden Hartman (1897-1956)

------------

Children of William Frank Shutt and Frances Elizabeth Marshall (Family in TN)
Arthur Jowers Shutt (1892-1967 m. 1) Ella Seaton (1893-1928), 2) Elsie Shelby (14 May 1911 - 3 August 1996). They married on 9 March 1932 in Hardin Co. TN
---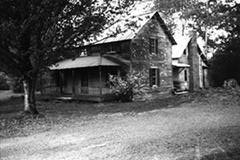 The John Edward Bell Shutt House

The Shutt House is a typical conservative homestead representative of the simple stylistic details of the post-war rebuilding era. This compound house connects a hall and parlor built by J.E.B. Shutt in 1885, by way of a breezeway to an I-house he added twenty years later in 1905. The front (west) focus of the house is its symmetrically composed three-bay facade with three coupled two over two sliding windows under the eaves, a hip-roofed porch with wood-sheathed ceiling and wooden floor, and a panel front door with two glazed panes. Equally striking is the spindle work of J.E.B. Shutt in the turned and squared posts with matching balusters and molded railings.

The Shutt family settled in the community of Advance (Shady Grove until 1877), Davie County, N.C. in 1855. The Shutts, skilled in woodworking and carpentery, built and shipped furniture, wagon wheels, grain cradles, and coffins. J.E.B. Shutt was the only licensed undertaking establishment in the northeasten part of Davie County, and served the area for 25 years until he sold his franchise to Kirkman Co. in Lexington, N.C in c. 1930. He continued, with his son Walter Wesley Monroe Shutt, to sell coffins and work in the woodworking trade until his death on June 8, 1932. Walter continued the family woodworking shop (known as Grandy Shutt's Wood Shop) until his death in 1973.

The J.E.B. Shutt House was entered into the National Register of Historic Places by the United States Department of Interior on May 16, 1996 and is owned by a descendant of J.E.B. Shutt.
---
Children of John Edward Bell Shutt and Florina Jane Sink
Lizzie Cornelia Shutt (1886-1968) m. Thomas J. Byerly (1870-1938)
Lena Agnes Shutt (1887-1974) m. Wade Harold Nail (1889-1951)
Clara Belle Shutt (1889-1955) m. Wiley Bennie Garwood (1887-1948)
William (Willie) Lee Shutt (1891-1918) in France during WWI
Laura Eugenia Shutt (1893-1980)
Walter Wesley Monroe Shutt (1895-1973) m. Lelia Hazel Sheek (1896-1996)
Ernest Samuel "Sammy" Shutt (1898-1900)
Charlie Adam Shutt (1902-1953) m. 1) Carolyn Tennis, 2) Virgina E. Tyrrell (abt. 1903-1965)

------------

George Henry Clay Shutt and Mary Alice Byerly
Earl Carlsdale Shutt (1883-1900) did not marry
Florence Lillian Shutt (1886-1969) m. W. Adam Leonard (1863-1953)
Edna Mae Shutt (1888-1973) m. Charles Clifton March (1888-1959)
Mattie Viola Shutt (1890-1987) m. Oscar B. Poindexter, Sr. (1888-1923)
Grover Deloss Shutt (1892-1932) m. Reba Smith (abt. 1892)
Arthur Lee Shutt (1895-1985) m. Carrie Bell Hartman (1905-1983)
Mary Eliza (Elizabeth)Shutt (1898-1963) m. Lee T. Sidden (1898-1989)
George Henry Clay Shutt, Jr. (1901-1978) m. Virginia C. Poe (1905-1994)

------------

Child of Lucy Jane Catherine (Kate) Shutt
Ella Crawford Shutt (1891-1970)

------------

Children of Martha Frances (Fannie) Rebecca Shutt and Daniel Elisha (Lish) Holder
Lydia Gertrude Holder (1889-1976) m. John Wesley Spears (1883-1971)
Sallie Esther Holder (1891-1981) m. John Frank Holder (1891-1971)
Albert Elisha Holder (1894-1970) m. Bessie H.B. Bodford (1896-1970)

------------

Children of Jacob (Jake) Samuel Alexander Shutt and Mary (Mamie) Eliza Howard
Leonard Wesley Shutt (1892-1959) m. 1) Bertha Alvis (1898-1941),
2) Nellie McLawhorn; 3) Maggie Dean (?-1950)
Infant son Shutt (1894-1894)
Alma Viola Shutt (1895-1957) did not marry
Infant daughter Shutt (1897-1897)
Baxter (Bax) Glenn Shutt (1899-1987) m. Gladys Thelma Brittle (1905-1942) (buried in Richmond, VA)
Jimmy Royal Shutt (1901-1907)
Thomas Samuel Shutt (1903-1989) m. Eva J. Wells (1909-1953)
Zella Harriett (Cys) Shutt (1905-1983)
Annie Lillian Shutt (1908-1997) m. Solomon Earl Snider (1908-1998)
Mamie Lee Shutt (1910-1993) m. John Conrad Scott (1903-1967)
Eva Mae Tance Shutt (1914-1988) m. 1) Travis R. Chandler (1914-1976),
2) Samuel Beauchamp (Jim) Crowe (1902-1990)

-------------

Children of Charles Augusta Shutt and Nellie Matthews (Family in TN)
Mayme Sue Shutt (1881-1934) m. Will Grant
Samintha (Mitee) Shutt (1884-1970) m. John C. Welch (1886-1962)
Maude Melvina Shutt (1889-1966) m. Alexander Newton Hollis, Sr. (1872-1948)
Emma Shutt (1896-1916) m. Harvey Dan Rich (1889-1962)
Jesse Shutt (1893-1919) m. Maude Reed
James (Jamie) Shutt (1904-1929) did not marry

-----------

Children of John Orrell Shutt and Nannie Marshall (Family in TN)
Warren Shutt (1886-1965) m. Ireland ?
Joe Henry Shutt (1903-1980) m. Jessie Tucker (1908-1990)
Mattie Shutt (1887-1968) m. Pate Bell
Andy Shutt
Nora Shutt m. Esque Moody

------------

Children of William Frank Shutt and Frances Elizabeth Marshall (Family in TN)
Arthur Jowers Shutt (1892-1967 m. Ella Seaton (1893-1928)
William Edward (Ed) Shutt (1893-1967) m. Cecily Belle Welch (1895-1974)
Wesley Glean Shutt (aka John Wesley) (1895-1965) m. Alma Blount (1897-1979)
Willie Orrell Shutt (1896-1935) m. Lydia Fondren (1902-1997)
Kennie Lafayette Shutt (1898-1987) m. Montie Ann Collins (1905-1997)
Robert Taylor Shutt (1900-1961) m. Bernice Basey (1909)
---
Sources
Thanks to B. Zimmerman for information on this family, including research through the Moravian Archives in Salem.

Edith R. Zimmerman and B. D. Zimmerman have published the Professional Ledgers of John Edward Bell Shutt, Woodcraftsman and Undertaker, Shady Grove Township, Advance, N.C. If you are interested in the history and people of the Shady Grove Township of Advance, and Davie County, NC, then you will want to read this book. Lots of local names, including the names of persons who ordered coffins for burial and the name of the person who was to be buried. You can order this outstanding book from: Mrs. Edith Zimmerman, 3041 Cornatzer Rd., Advance, NC 27006 or e-mail BZ at BEZIM@aol.com. The price is $30.00 and includes shipping and handling and tax.

Records of the Moravians in North Carolina, 11 volumes; Publications of the North Carolina Historical Commission.

Forsyth Co. NC Cemetery Records

North Carolina marriage bonds

Nifong and Knifong, Descendants of Balthaser and Casper Neufang, 250 Years of Family History in America 1748-1998. Compiled by Becky J. (Nifong) Lassiter.

This page was revised on November 17, 2001. Minor additions were made on June 19, 2005.

©, 2001-2007 Faye Jarvis Moran and Elizabeth H. Harris
faye@fmoran.com, ncgen@mindspring.com
---
Return to List of Family Names
Return to the Jarvis Family Homepage