The Jarvis Family and Other Relatives
If you have reached us from Ancestry.com or another cached site,
please go to http://www.fmoran.com/hamil.html to see the latest version of this page.
We welcome comments and inquiries. Please write us.
Hamilton Family
---
Gavin Hamilton received 150 acres on February 20, 1685 in Charles Co MD and named it "Hamilton." He then added 87 acres in 1686-88 and was taxed in New Scotland Hundred for 150 acres called "Hamilton Survey" which was held by Andrew Hamilton and William Tannehill. Andrew had 29 acres and William had 121 acres. In 1690 Gavin Hamilton bought "Attwoods Purchase" from John Attwood and in 1695 Gawen Hamiltowne and Wm. Tannehill were appraisers for James Smallweell's estate. Gavin's will is dated December 30, 1698.
---
Second Generation:

Children of Gavin Hamilton (1630, from Scotland - c1698, Charles Co. MD) and Elizabeth
Andrew Hamilton (1655-1719) m. 1) Mary; 2) Mary Beall (1676-aft 1724), d/o Ninian Beall (Mary Beall Hamilton married 2nd Thomas Evans) 2 daughters, names unknown
---
Third Generation:

Children of Andrew Hamilton and first wife Mary Gawen Hamilton (1701) m. Ann Mary Hamilton (1705) Children of Andrew Hamilton and Mary Beall
Andrew Hamilton (1716-bef. 1778) m. Mary (1736)
Thomas Hamilton (1710-bet. 1782/1784) m. Ann (1741-?) (listed on 1759 Rowan Co Tax List)
George Hamilton (abt. 1714-1752) m. Mary Gordon
Ninian Hamilton (abt. 1717-bef. 1784) m. Margaret Lucas (1717-1759)

"The sheriff had taken advantage of a peculiar conjuncture of events to seize two of the leading men. A meeting had been agreed upon to be held on the 20th of May, 1768, when the sheriff and vestrymen would meet a deputation from the Regulators, and give them satisfaction. Previous to that day a messenger came from the governor with a proclamation against the Regulation as an insurrection; the sheriff immediately, with a party of thirty horsemen, rode some fifty miles, and seizing Harmon Husbands and William Hunter, confined them in Hillsborough jail. The whole country arose, and making an old Scotchman of some seventy years of age, Ninian Bell Hamilton, their leader, marched towards Hillsborough to the rescue." Sketches of North Carolina, Historical and Biographical: by William Henry Foote, published in 1846. Digitized May 10, 2005.
---
Fourth Generation:

Children of Thomas Hamilton and Ann
Thomas and Ann are found living in Prince George's County, MD 1776.
Their sons are 21 and 25 years of age. Daughters are 20, 19, 16 and 14.

------------

Children of Andrew Hamilton and Mary
Andrew and Mary are found living in Prince George's County, MD, 1776.
Their sons are 14, 9 and 7. Daughter is 10.

Living in the same County is John G. Hamilton, born ca. 1748 with wife, Susannah, age 28. Their son is 6. Their daughter is 1 year of age. Also living in this household is a female 57 years of age and a female 23 years of age.

------------

Children of Ninan Hamilton and Margaret Lucas
Hanson Hamilton (1737-?)
Ninian Beall Hamilton (1739-1831) m. Ann Mary Fields
Thomas Hamilton (1741-aft.1802)
Archibald Hamilton (1743-) m. Mary Hawkins (listed on 1759 Rowan Co Tax List)
Matthew Hamilton (1745-?)
Ann Hamilton (1747-?)
Charles Hamilton (1751-?)
Mary Hamilton (1751-1821). Did not marry. Mother of John Campbell.
Ursalla Hamilton (1754-?) twin
Elizabeth Hamilton (1754-?) twin
Sara Hamilton (1756-?) twin
Horatio Hamilton twin (1756-1840, NC) m. 1) Louisa/Lucy Peddycoart (1755-1800) and 2) Sarah Schneider Frey (1737-1826)


NC Loyalists - mentions Archibald Hamilton
---
Fifth Generation:

Children of Ninian Beall Hamilton and Ann Mary Fields
William Hamilton (abt. 1763-abt 1832). Died in St. Louis MO Andrew Hamilton (1765-1849) m. Penelope. Lived in Franklin Co., MO
Margaret Hamilton (abt. 1769-aft. 1843) m. Leonard Farrar
Sarah Hamilton (abt. 1772-aft. 1840) m. Theophilus McKinney
Ninian Hamilton (1777-1836) m. Sarah Woods. Died in St. Louis, MO
Jane Hamilton (c1780-?) m. Joshua Tanzey. Lived in Greene Co., KY
Jeremiah Hamilton (1782-1847) m. 1) Martha Mitchell, 2) Elizabeth Fisher. Lived in Franklin Co., KY
Mary "Polly" Hamilton (abt. 1784-bef. 1837) m. Robert Bay
Ann Hamilton

(Mary Hamilton and Robert Bay were married 1802/1803 in the District of San Andre, Spanish Louisiana. Ninian Beall Hamilton received on January 15, 1800 a land grant from the Spanish. Robert Bay received a land grant from the Spanish in 1803. Both grants were declared to be valid by the Board of Land Commissioners settling land claims from 1806-1812.)

-------------

Child of Mary Hamilton, a single mother
John Campbell (1775-aft,1850) m. Anna Regina Weidman (1775, PA-aft. 1850)

-------------

Children of Horatio Hamilton and Louisa Peddycoart
Mary Hamilton (1784-1856) (twin) m. John Holland (1781-1843)
Sarah Hamilton (1784-1859) (twin) m. George Fischer(ca. 1788-aft. 1860)
Elizabeth Hamilton (1786-1869) m. 1) William Pedicord (1780-1830),
2) Philip Martin Vogler (1779-1848), s/o Lorentz Vogler and Elisabeth Greter
Samuel Hamilton (1790-1816) m. Anna Maria Hege (1791-1816)

Horatio Hamilton was born July 6, 1756 in Frederick County, MD (Carrolls Manor). When he was just three years old his mother died and he was the youngest of 16 children to survive. In 1765 he moved with his parents (was there a step-mother?) to Randolph County, North Carolina. By 1771 he settled down (near Salem) as a single man upon the spot of ground upon which he remained till the day of his demise.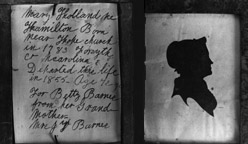 (Silhouette of Mary Hamilton Holland, courtesy of Betty Barnes Elias, a direct descendant of John Holland and Mary Hamilton Holland)
---
Sixth Generation

Children of Sarah Hamilton and George Fisher
Maria Rebecca Fischer (1823-1824)
George Fischer (abt. 1824-?)
Anne Lissetta Fischer (1826-aft. 1860) m. Samuel Lagenour (1825-1895) (m. 1848, Davidson Co, NC)

-------------

Children of Samuel Hamilton and Anna Maria Hege
Charlotte Hamilton (1811-1900) m. Timothy Vogler
George Hege Hamilton (1814-1879) m. Elvira Horton (1820-1888) (moved to Ashe County in 1834)
Louisa Hamilton (b. & d. 1816)
---
Seventh Generation:

Children of Charlotte Hamilton and Timothy Vogler
Maria Lavinia Vogler (1833-1896) m. Julius Edward Mickey (1832-1938)
Mary Jane Vogler (1838-1921) m. Alexander Hamilton Horton (1832-1889)

--------

Children of George Hege Hamilton and Elvira Horton
Rufus A. Hamilton m. Laura C. Agthe, d/o Fredrick and Mary Agthe
*Hege Hamilton (ca. 1843-?) m. America Rousseau
William Horton Hamilton (1845-1908) m. Martha Virginia Perkins
Mary Hamilton (1847-1933) m. L.C. Gentry

This family has been revised from the previous version of this page, based on James Jurney's book on the Hege family. Previously we showed William with middle initial M., born 1847; George Hege Hamilton born 1850; and a third child, Martha Hamilton, also born 1850. Is Martha the same as Mary?

Eight Generation

Children of Hege Hamilton and America Rousseau
William Rousseau Hamilton (1886-1943) m. Ella R. Transou (1887-1953), d/o Sidney Montford Transou and Sincesca A. Mastin

*The death certificate of William Rousseau Hamilton names his father as George F. Hamilton and his mother America Rousseau and shows he was born in Ashe Co., NC. William R. Hamilton died in Forsyth Co., NC in 1943, buried in the Moravian Graveyard.

-----------

Children of William Horton Hamilton and Martha Virginia Perkins
Kate Hamilton (1881-1957) m. Price
---
Sources:

North Carolina Death Certificates 1909-1975

Richard W. Starbuck, Assistant Archivist, Moravian Archives, Winston Salem, NC

Personal communication with Betty Barnes Elias, a direct descendant of Mary Hamilton and John Holland. Betty passed away in 2001.
. Fredric Z Saundersweb site.

Personal communications with Dolores Miltenberger. Dolores wrote a 400+ page book on the Hamiltons about 20 years ago. She is still selling copies @ $45 (which includes copying costs and shipping). You can contact Dolores at: shrimp@altinet.net for more information on the book or queries about the Hamiltons.

Stokes County Wills, Southern Historical Press, Inc.

Death Notices from the People's Press (Salem, NC) 1851-1892, Compiled and Edited by Robert M. Topkins, published by the Forsyth County Genealogical Society.

Early Charles County Maryland Settlers 1658-1745, Marlene Strawser Bates & F. Edward Wright

Forsyth County, NC Cemetery Records, Compiled by Donald W. Stanley, Hazell R. Harrison, Ann Ellis Sheek

Personal communications with Gray Harmon. Her email address is GrayHarmon@aol.com

Early Charles County Maryland Settlers, 1658-1745, Marlene Strawser Bates and F. Edward Wright

Marylanders to Carolina, Henry C. Peden Jr.

Personal communications from Joe Keys. Email address: joekeys@Multipro.com

Personal communications from Chester R. Johnson. Chester is especially interested in corresponding with anyone connected to the Hamilton/Bay line. His email address is: cjohnson@fastlane.net Some revisions were made to this page on February 1, 2004.

©, 2001-2007 Faye Jarvis Moran
faye@fmoran.com
---
Return to List of Family Names
Return to the Jarvis Family Homepage