The Jarvis Family and Other Relatives
If you have reached us from Ancestry.com or another cached site,
please go to http://www.fmoran.com/johnson.html to see the latest version of this page.
We welcome comments and inquiries. Please write us.
Johnson Family
---
First Generation:
William Johnson was born August 31, 1732 in Wales, Great Britain and died in 1765 in Old Rowan County (present day Forsyth), North Carolina. He married Elizabeth Ellis and they had two children, James and Sarah. After William's death in 1765 his widow, Elizabeth, married Robert Willson. The parcel of land that William Johnson bought upon his arrival in 1757 from William Linville, is the present-day site of Tanglewood Park, Clemmons, NC.
Most records indicate that James Johnson was born at sea in 1757 on the way to America. It is unknown where he is buried but his will was probated August 30, 1830 in Rowan County, NC.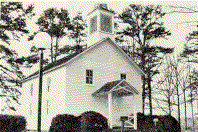 Mt. Pleasant Methodist Church, Clemmons vicinity
Mt. Pleasant Methodist Church was constructed in 1809 by Henry Eccles, a local builder, who carved his initials and the date into one of the church timbers. It is a simple, frame, gable-front structure which housed an active congregation until the 1920s. In 1928 William Neal Reynolds bought the property at the request of the congregation and the building was used as a granary. It was restored in 1951 through the generosity of Senah Critz Kent. Next to the church lies a graveyard with stones dating from 1765. William Johnson, the first settler in the area, is buried in the cemetery. --Courtesy of the City-County Planning Board, Winston Salem, North Carolina. All Rights Reserved.
Mt. Pleasant Cemetery Records by Virginia Flesher
---
Second Generation
Children of William Johnson (1732-1765) and Elizabeth Ellis (1735-?)
James Johnson (1757-1830) m. 1) Jane McKnight (1762-1818), d/o George McKnight, Sr. and Catherine Lee; 2) Lydia Elrod (1781-1845), d/o Christopher Elrod and Sarah Douthit
Sarah Johnson

Who is the Anna Johnson married to George Hanes (1781-1834)? Their only child Elizabeth Johnson Hanes was born in 1829.
---
Third Generation
Children of James Johnson and 1) Jane McKnight
William Johnson (1786-1835) m. 1) Alsha Boner (1787-1818); 2) Elizabeth Eccles (1785-1831) 3) Rebecca Elrod (widow of Solomon Elrod)
John Johnson (1787-1835) m. 1) Lydia Elrod (1790-1816), d/o Adam Elrod and Rachel Wainscott; 2) Sarah Elrod (1795-1834), d/o Christopher Elrod and Sarah Douthit
Catherine Johnson (1790-1844) m. Joseph Clouse (1787-1861) (Joseph m. 2nd, Mrs. Cynthia P. Hampton)
Elisabeth Johnson m. Jeremiah Eccles
Mary Johnson (1792-1872) m. Philip Whitman (1787-1860)
James Johnson Jr. (1797-1866) m. Anna Eccles (1801-1854)
---
Fourth Generation
Children of William Johnson and 1) Alsha Boner
Joshua Johnson (1813-?)
Wiley Ellis Johnson (1815-1890) m. 1) Sarah Elrod (1822-1850), d/o Solomon Elrod and Rebecca; 2) Martha Norman (1829-1865), d/o James Norman and Mary McKnight

Children of William Johnson and 2) Elizabeth Eccles
Alexander Johnson (1822-1871) m. Emily Martin (1827-?)
William Coston Johnson (1823-1882) m. Salome (Sarah) Sides (1830-1891)

Children of William Johnson and 3) Rebecca Elrod
John Wesley Johnson (1832-1857) m. Rebecca Faw (1836-1892)

------------

Children of John Johnson and 1) Lydia Elrod
George Wesley Johnson (1810-1889) m. Martha Williams Taylor (1816-1893), daughter of Spencer Taylor & Esther Etheridge
Adam Johnson (1813-1831)
Madison Johnson (1816-1848) probably m. Rebecca Hughes in 1838

Children of John Johnson and 2) Sarah Elrod
Lydia Johnson (1819-1826)
David Enos Johnson (1821-?)
Jennett Amelia Johnson (1823-?)
James Millys (Millus?) Johnson (1824-1892) m. 1) Sarah ?, 2) Rachel Ann Smith (1848-1930)
Emelia Elizabeth Johnson (1827-?)
John Hiram Johnson (1830-?)
Sarah Jane Johnson (b. & d. 1833)

------------

Children of James Johnson Jr. and Anna Eccles
Asbury M. Johnson (1823-1824)
Emily Camilla Johnson (1828-1911) m. Zaddock Griffith (1821-1889)

----------

Children of Elisabeth Johnson and Jeremiah Eccles
Caroline Eccles (died bet. 1840/1850) m. Lewis Hanes

In October of 1853, Jeremiah Eccles offered his Plantation on the Yadkin River to be sold. The ad appeared in People's Press as follows: "I offer for sale my Plantation on Yadkin River, three miles South of Clemmonsville, containing 340 acres of land. The Improvements consist of a good two-story Dwelling, Kitchen, two Barns, other necessary Outhouses, and two Wells of good water conveniently situated. There is a good Mill-Seat of about five feet fall on the premises, with water sufficent to propel any quantity of Machinery. -- Jeremiah Eccles. Davidson County, N.C., Sept."
---
Fifth Generation
Children of Wiley Ellis Johnson and 1) Sarah Elrod
Henry N. Johnson (1842-1845)
Martha C. Johnson (1844-1854)

Were they also the parents of William Augustus Johnson (1840-1922) who married Sarah Ann Rominger (1838-1921)?

Children of Wiley Ellis Johnson and 2) Martha L. Norman
James H. Johnson (1857-1868)
Joseph E. Johnson (1862-1886)
Clara Cynthia Johnson m. Robert Lee Shoaf (1860-1890)

----------

Children of Alexander Johnson and Emily Martin
Sarah Elizabeth Johnson (ca. 1851-?)
John Emory Johnson (1854-?) m. Lillie Alspaugh (1864-1960)
Augusta Johnson (ca. 1856-?)

-------------

Children of William Coston Johnson and Salome (Sarah) Sides
John Harrison Johnson (1854-1896) m. Mary E. Crouse (1857-1912)
Henry Johnson (1856-1942) m. 1) Elizabeth Sides (1857-?), d/o Christian David Sides and Alpha M. Vawter; 2) Susan Ella Clinard
Mary Johnson (1857-1937) m. Lewis Spaugh (1854-1937)
Elizabeth Johnson (1859-1941) m. Nathan William Shore (1858-1930)
Martha Alice Johnson (1861-1932) m. Rev. James E. Hall (1855-1934)
Coston E. Johnson (1863-1936) m. 1) Carrie Spaugh (1870-1918), 2) Elizabeth Ford [name corrected 3/1/04]
Jennie E. Johnson (1865-?)
*Maria Johnson (1867-1934) m. Albert Ellis
James Louis Johnson (1872-1949) m. Chloe Sigmon (1873-1955)

*Maria Johnson married Albert Ellis in 1908. Was he the same Albert Ellis who previously had married Mary Cornelia Johnson, daughter of James Millus Johnson? (see below)

----------

Children of George Wesley Johnson and Martha Taylor
John Madison Johnson (1836-1870)
Francis M. Johnson (1837-1918) m. 1) Amanda (Minnie?) L. Douthit (1844-1892), d/o Stephen Douthit and Lisetta Matilda Conrad; 2) Lizzie G. Stone (1861-1946)
James Lafayette Johnson (1840-1870)
Jane Amanda Johnson (1842-1926) m Charles Frederick Bahnson (1840-1911)
William Gaston Johnson (1845-1911) m. Emma C. Miller (1851-1917)
Valeria Martine Johnson (1847-1876)

------------

Children of James Millus Johnson and Sarah
*Victoria Johnson (1848-1890)
Eugene Johnson (ca. 1853-?)
Mary Cornelia Johnson (1858-1905) m. Albert Ellis (1849-1923), s/o Isaac W. and Temperance Ellis
Sarah Emma Johnson (ca. 1859-aft. 1890). Did she m. James F. Parks in 1891?
James Monroe Johnson (ca. 1862-aft. 1890)
William Lee Johnson (ca. 1865--aft. 1890)

*Victoria Johnson died Nov. 1890 at the Broughton Hospital in Morganton, NC and was buried in the hospital's cemetery.

Children of James Millus Johnson and Rachel Ann Smith
George M. Johnson
John Franklin Johnson (1881-1950)
Ann C. Johnson
Lina May Johnson. Did she m. James C. Galloway in 1913?
Vada H. Johnson
---
Sixth Generation
Children of John Harrison Johnson and Mary E. Crouse
Frank A. Johnson
Bessie C. Johnson
Thomas E. Johnson (d. 1957) m. Elizabeth Burke
Stella S. Johnson
Nora A. Johnson m. William D. Perryman
Elmer W. Johnson (d. 1918)
J. Wiley Johnson m. Carrie Mood
Bernard C. Johnson (1895-1946) m. M. Kathleen Backman

----------

Children of Henry Johnson and Elisabeth Sides
Robert Eugene Johnson (1880-1963) m. Alma C. Shutt (1890-1967)
Virgil O. Johnson
Gaither F. Johnson (1884-1961) m. Earshlie Burke (d. 1989)
Mittie L. Johnson (1886-1945) m. Emory Samuel Burke (1882-1961)
Burleigh L. Johnson (d. 1960) m. Beulah Alspaugh

Children of Henry Johnson and Ella Clinard
Salome M. Johnson
Dewey H. Johnson (d. 1990) m. Ruby Coltrane
Nannie S. Johnson
Henry W. Johnson (d. 1968) m. Ella M. Spaugh

----------

Children of Coston Johnson and Carrie Spaugh
Della L. Johnson m. Pierre Walker
Russell C. Johnson (d. 2000) m. Margaret Click

----------

Children of James Louis Johnson and Chloe Sigmon
William Johnson m. Elizabeth Meggs
John Johnson m. Nancy Cummings
Howard Johnson m. Elizabeth ?
Faith Johnson m. Perry G. Bunn
Hope Johnson m. Carl A. Barkley
James Johnson m. Alice Cornwell

----------

Children of William Gaston (Dr.) Johnson and Emma C. Miller
Emma L. Johnson (1881-1969) m. Jesse Marvin Smith (1883-1962)
George Wesley Johnson (1883-1949) m. Marian G. Hauser (1889-1976)
Francis Marion Johnson (Dr.) m. Estelle Vestal in 1902
Bertha Johnson (died in childhood)
Spencer Johnson (died in childhood)
---
Sources:

Mt. Pleasant Cemetery Records by Virginia Flesher

Forsyth County Genealogical Society Journals

Davie County census, marriage, and cemetery records

People Named Hanes by Jo White Linn

Foltz, Herman E., Adam & Maria Spach - Their Family

This page was extensively revised on December 10, 2000. Additional changes were made on March 1, 2004.

©, 2001-2007 Faye Jarvis Moran
faye@fmoran.com
---
Return to List of Family Names